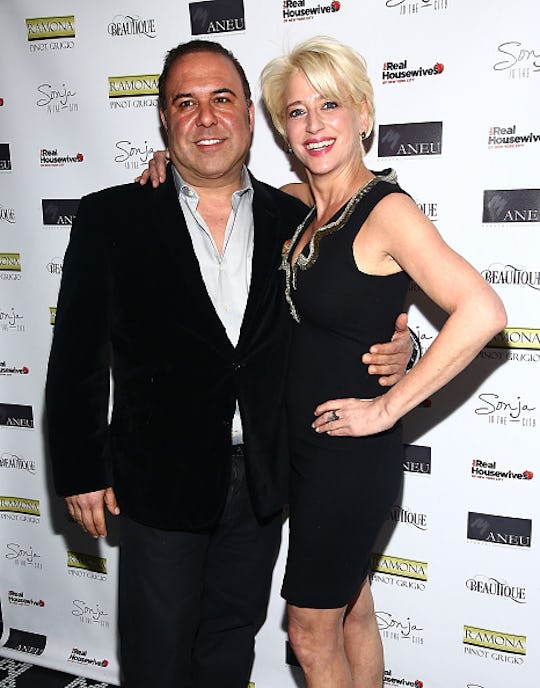 Astrid Stawiarz/Getty
What Is Dorinda Medley's Boyfriend's Job? John Mahdessian Is The "Sultan Of Stains"
Even before he began appearing on the Real Housewives of New York as Dorinda Medley's boyfriend, John Mahdessian was something of a hometown hero in his own right. He's had a busy career, and it's not one of those stuffy Wall Street jobs that some Real Housewives significant others often have. But, that doesn't mean he's not successful. In fact, he's created a brand for himself. So what exactly is Dorinda's boyfriend John Mahdessian's job?
Before causing a stir on RHONY, John created a name for himself with his dry cleaning business, Madame Paulette, known as the cleaning service of the rich and famous. Only don't call it a dry cleaners — John hates that. Madame Paulette is so much more than a dry cleaners. The business specializes in cleaning services for high quality, delicate items. It has been named the dry cleaner of choice by Vogue. It has cleaned the clothes of Vogue fashionista Lauren Santo Domingo, the MoMA, and even the gowns of Princess Diana. Dubbed the Sultan of Stains by The Observer, John Mahdessian is known in New York as being the man to call the direst of fashion circumstances.
Madame Paulette repairs wedding dresses, makes house calls, even cleans yacht upholstery — which probably applies to us all. Basically, if you've got a fabric, Madame Paulette can clean it. And it's clear that John takes his role as "Sultan of Stains" extremely seriously. In the Observer article, he twice compares himself to a doctor. Excuse me, a "world-renowned surgeon."
Madame Paulette was first opened in 1958 by John's great uncle. But it was John who turned it into the fashion industry institution that it is today. He was the one experimenting with formulas to get any stain out of anything. And he was the one who marketed the place like crazy, handing out business cards to the who's who of the New York fashion world. Today, the company is known as the Madame Paulette Organization, and it is huge.
It doesn't just cater to the NYC elite either, it gets orders from all over the world. And it doesn't just do dry cleaning either. According to the New York Post, Madame Paulette can log every item of clothing you own by sewing a tiny locater chip into the label of every garment, which will then be photographed and stored on a computer. A handheld "virtual stylist" will locate the item. Personally, I don't have enough clothes to make this kind of obsessive organization necessary, but I wouldn't mind this kind of thing for my wallet, keys, socks, and lipsticks. (Plus, this would have come in handy when Bethenny Frankel accused Ramona Singer of stealing her dress. She could have just located it!)
I don't know if I'd want John Mahdessian for a boyfriend, but if I ever have a stained or destroyed piece of clothing in need of a miracle, he'll be my first call.