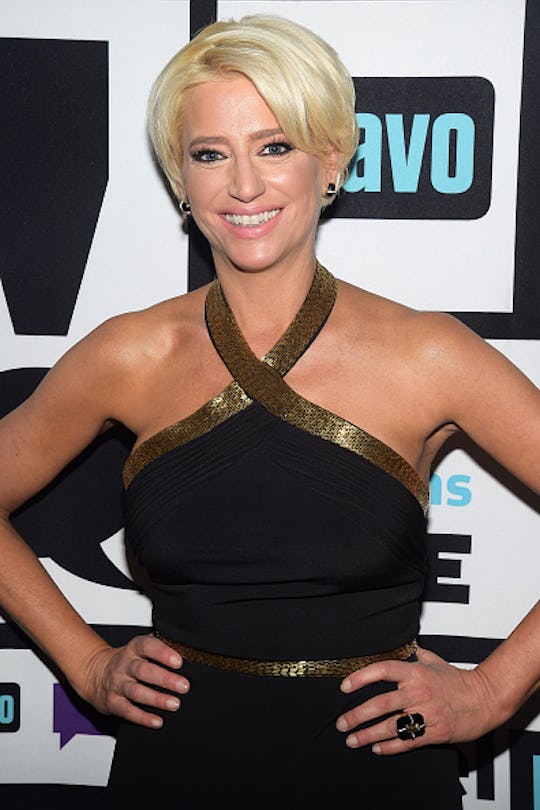 Charles Sykes/Bravo
What Is Dorinda Medley's Net Worth? The 'Real Housewives' Star Can Do Anything
The Real Housewives of New York make no secret of being pretty well off. Bethenny Frankel has built an empire of her Skinnygirl products. Sonja Morgan has built an empire of… something (we're just not sure what). Part of the fun of watching the Real Housewives series is seeing the enormous, impeccably-decorated Manhattan apartments, the luxe parties attended by minor celebrities, the houses in the Hamptons, and the lavish vacations. So how much money exactly does it take to live like a modern day Edith Wharton character? Let's ask Dorinda Medley, who joined the cast of the New York Housewives last year, after occasional brief appearances as a friend of Luann and Ramona's. What is Dorinda's net worth on Real Housewives of New York?
She's doing pretty well for herself, as it turns out. According to Celebrity Net Worth (which is by no means the most reliable source, but a good place to start), Dorinda Medley is worth an estimated $20 million. Which is a lot of money, and definitely nothing to glance over (so many zeroes). This puts her financial situation slightly below Bethenny and Carole Radziwill, but still above many of the other ladies (and, obviously, the country). So how did Dorinda accumulate such a wealth?
She started her career in fashion in the late '80s working in New York City showrooms at Liz Claiborne. When she married her husband, the pair moved to London, and Dorinda started her own cashmere company, DCL Cashmere, that did extremely well. Her clients included the likes of Princess Diana (seriously), and Joan Collins. After 10 years in London, she and her husband divorced, and she moved back to New York City with her daughter, Hannah, to start fresh.
This time around, Dorinda didn't go back to working in fashion (though I wish she'd brought her cashmere company) but instead decided to switch careers and become a real estate broker. Like apparently everything she touches, Dorinda was successful at this as well. But perhaps the most fortuitous part of this new career was that it was when showing him an Upper East Side townhouse that Dorinda met Richard Medley, the love of her life, and the man who was to become her second husband. Medley was a hedge fund advisor and, according the Dorinda's Bravo bio, a respected speechwriter for Geraldine Ferraro. Though he died tragically in 2011, Dorinda didn't let it slow her down. Today she is as unstoppable as ever.