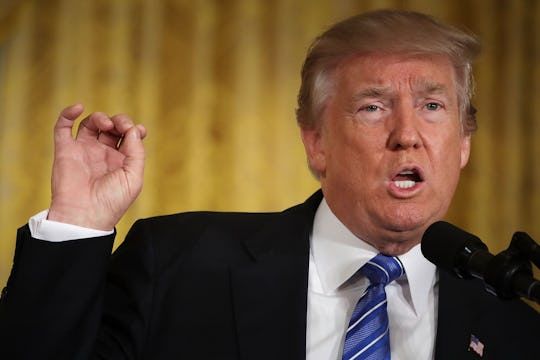 Chip Somodevilla/Getty Images News/Getty Images
Trump Opts Out Of Eid Al-Fitr Celebration
Eid Al-Fitr is being celebrated by Muslims across the globe this weekend. The celebration started on Saturday and will run through Tuesday this year. One person who opted out of celebrating the important Muslim holiday? The president of the United States. In fact, Trump broke tradition by not celebrating Eid Al-Fitr this year, becoming the first president to opt out of observing this holiday at the White House in at least 20 years. His refrain from embracing this holy celebration has not gone unnoticed, either. White House spokespersons did not immediately respond to Romper's request for comment.
For those who aren't familiar with Eid Al-Fitr or why it's a big deal that Trump isn't celebrating it at the White House, here's a quick primer. Eid Al-Fitr is an important religious holiday for Muslims that marks the end of Ramadan; While Muslims fast for a whole month during Ramadan to acknowledge the discovery of the Quran, Eid Al-Fitr is the breaking of that solemn fast. In addition to marking the end of Ramadan, Eid Al-Fitr begins the month of Shawwal on the Islamic lunar calendar. The days spent celebrating Eid Al-Fitr are seen "as a time of forgiveness and of giving thanks to Allah," according to The Mirror, and is a revered time for Muslims.
Some perceive Trump's decision not to carry on the tradition of celebrating Eid Al-Fitr in the White House as a slight against Muslims. BuzzFeed reported that the tradition of celebrating Eid Al-Fitr in the White House dates as far back as 1805, when Thomas Jefferson commemorated the occasion. The last three presidents before Trump, including his closest Republican predecessor, George W. Bush, all celebrated the sacred Muslim holiday during their tenure in the White House. This will be the first skipped Eid Al-Fitr celebration in at least 20 years.
Trump didn't completely ignore the holiday, though, as he released a statement acknowledging its existence. "Muslims in the United States joined those around the world during the holy month of Ramadan to focus on acts of faith and charity," Trump said in his statement released through the Office of the Press Secretary. "During this holiday, we are reminded of the importance of mercy, compassion, and goodwill. With Muslims around the world, the United States renews our commitment to honor these values."
According to BuzzFeed, instead of hosting an Eid Al-Fitr celebration in the White House, the president and first lady Melania Trump attended the wedding of Treasury Secretary Steven Mnuchin. Secretary of State Rex Tillerson also broke with tradition and refrained from hosting an Eid Al-Fitr reception.
Eid Mubarak to all those celebrating this weekend. May your Eid Al-Fitr celebration be filled with health, happiness, and joy — even if the president is noticeably skipping the occasion himself.