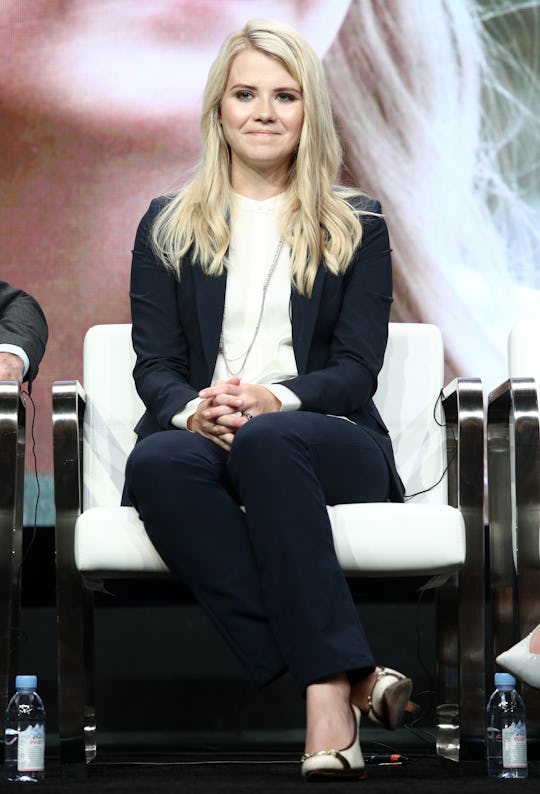 Frederick M. Brown/Getty Images Entertainment/Getty Images
Elizabeth Smart Has Led A Very Admirable Life
Lifetime's newest original film tells a true story: it follows the kidnapping, confinement, and eventual escape of Elizabeth Smart from her captors Brian David Mitchell and Wanda Barzee. Appropriately titled I Am Elizabeth Smart, the movie is grounded in Smart's perspective, and she even produced and narrated the project. Smart shares her past in her own words, but what is Elizabeth Smart doing now? Her disappearance as a young teenager was heavily reported on by the media, but her story didn't end when she was found.
Mitchell abducted Smart from her bedroom in the middle of the night in 2002, when she was just 14 years old. Her imprisonment lasted for nine months, during which Smart was tormented and raped on a daily basis while Mitchell kept her chained in a campsite in the woods that he shared with his wife, Barzee. Smart was finally found after several people recognized her while she was out with Mitchell and Barzee in Sandy, Utah. The police were notified and they approached Smart, giving her a chance to affirm her identity and get away.
Smart emerged from that traumatic experience an advocate for victims of rape and sex trafficking, using her own experiences to lend a voice to others who had gone through similar things. It was her increased involvement in advocacy that allowed Smart to feel comfortable enough to discuss what happened to her, telling Variety, "I realized I have an opportunity. I have a unique opportunity to share my story because there are so many survivors out there who struggle every day... They feel like no one understands what they're going through... I feel like I need to speak out because I can."
After testifying against Mitchell, who is currently in jail serving two life sentences, Smart went on attend school at Brigham Young University and go on a mission with her church to Paris, where she met the man who would become her husband. Smart married Matthew Gilmour in 2012, then welcomed two children: a daughter named Chloe in 2015 and a son named James just this year.
Smart has spoken about what she went through in numerous different mediums, sharing her story in TED talks and countless interviews. She made standing up for victims a priority, even speaking in front of Congress to support sexual predator legislation. She created a foundation named after her, the Elizabeth Smart Foundation, that provides education and support for children who are victims of violent or sexual crimes.
According to the website:
[The] idea was to use the Smart family's experience — especially their frustration at limited resources to turn to in the wake of their crisis — and create something for other families suffering. Beyond that, to create something that would help shed a light on the brave work done in fighting crimes against children. To provide a place of hope, action, education, safety and prevention for children and their families wherever they may be, who may find themselves in similar situations as the Smarts, or who want to help others to avoid, recover, and ultimately thrive after they've been traumatized, violated, or hurt in any way.
Smart has published a book titled My Story, written with Chris Stewart, and has another set to be released in 2018 called Where There's Hope: Healing, Moving Forward, and Never Giving Up. Along with Lifetime's fictionalized take on the case, Smart worked with A&E to create a two-part nonfiction special, Elizabeth Smart: Autobiography, that aired on Nov. 12 and 13. It can act as an accompaniment to the Lifetime film, filling in any gaps and answering any questions viewers might be left with. Smart also appears to have found real happiness, telling People, "I wake up every morning and I feel like a very lucky and blessed woman."
Smart's story, and how she has rebuilt her life in the wake of what happened to her, is nothing short of inspirational.
Check out Romper's new video series, Romper's Doula Diaries:
Watch full episodes of Romper's Doula Diaries on Facebook Watch.