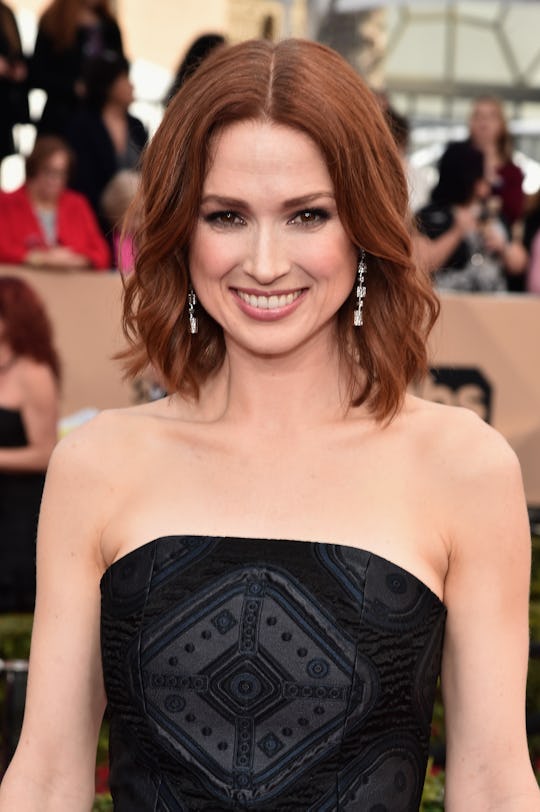 Alberto E. Rodriguez/Getty Images Entertainment/Getty Images
What Is Ellie Kemper's Baby's Name? The 'Unbreakable Kimmy Schmidt' Star Just Gave Birth
Ellie Kemper, the red-headed funny lady from fan faves including The Office, Bridesmaids, and most recently, Netflix's Unbreakable Kimmy Schmidt, just had her first baby with writer Michael Koman. What is Ellie Kemper's baby's name? It seems details including the baby's sex, and even the name, are being kept under wraps for the time being.
Kemper went on the Tonight Show with Jimmy Fallon in April to announce the pregnancy. She also talked about how she was able to juggle filming Unbreakable while dealing with her new mom pregnancy jitters, according to People.
"It didn't really affect filming until the very end," she told Fallon. "We had a table read and I saw that my character was supposed to be on a roller coaster. I was Googling 'pregnant women on roller coasters.'"
For the record, according to the American Pregnancy Association, riding roller coasters is not recommended when you're pregnant because being whipped around could cause the "premature separation of the placenta from the wall of the uterus, which is called placental abruption."
So she told her boss lady Tina Fey, herself no stranger to working with a baby on board, and they decided since the pregnancy was so early, they'd scrap the roller coaster scene and just chalk it up to a back injury. But, of course, it's hard for anyone to remember to act like they have a back injury all the time, so Kemper admits the rouse didn't last all that long.
"I could not act like I had a back injury. I kept forgetting I had one so I would do things someone with a back injury can't do," Kemper said, adding that after scenes were done she'd break out into cartwheels, but "you're not supposed to do that!"
To celebrate the announcement in April, Jimmy Fallon gave Kemper a gift any pregnant woman could appreciate: a pint of Ben and Jerry's Tonight Dough ice cream. It was a hit with the mama-to-be, according to E News.
"Anyone who knows me, I love Ben & Jerry's," Kemper said. "I'm not just saying this because it's your show, Tonight Dough is my favorite flavor. I've been having a pint every other night," the mom-to-be confessed. "I will probably fall asleep while I eat this because it's like a Pavlovian response. I fall asleep eating it at night."
Fallon added that "Every baby turns out to be a genius if you eat it while pregnant. We haven't proved that, but I think so."
Kemper is willing to test the theory adding, "We're going to in a few months!"
Besides the ice cream, Kemper told the TODAY Show she wasn't prepared for how creepy it would be to have total strangers touch her belly once she started to show.
"Now I'm showing and I don't know what goes through a person's mind—a stranger's mind no less—when they think, 'Oh yes, your stomach is something that now belongs to me and I can touch it,'" Kemper said. "It's actually crazy."
Unbreakable, indeed.
And now the baby is finally here. Congratulations to the whole family. I can't wait to see that precious little baby, and whether it's got Kemper's red hair!