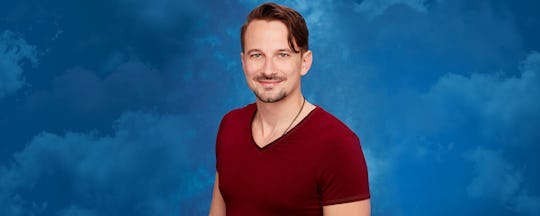 Craig Sjodin/ABC
What Is An Erectile Dysfunction Expert On 'The Bachelorette'? Evan Bass Has Quite The Job
Another batch of Bachelorette contestants have made their way to the mainstream conscious, and with that comes some unique jobs. Every season there are careers that seem to catch the eye of viewers. On Ben Higgins' season there was a chicken enthusiast — although that wasn't her real career — and there were "twins." Yes, that was their occupation, according the show. On JoJo Fletcher's season of The Bachelorette, Evan Bass is an erectile dysfunction expert, which, yes is clearly a real job. But what exactly is it?
First, let's get all of our giggles out of the way. Because, while its easy to crack a joke worthy of seventh grade health class, Evan actually has a legit job that just happens to circle around penises. Sure, he probably doesn't have business cards with the name "Erectile Dysfunction Expert" on there, the show probably glammed up the title of his real job for some shock value. If you can call "erectile dyfunction expert" a "glammed up" job title.
According to his LinkedIn (or a LinkedIn with the same name and city and job field), Evan is the director at Alabama Men's Clinic. The company's description is as follows:
The Alabama Men's Clinic was established to provide men of every age with discreet access to a team of Alabama-licensed, experienced physicians focused on men's sexual health. Our team has over 50 years of experience helping men of every age reclaim the fun, excitement, and intimacy of sex through a unique program that focuses on the individual patient.
So, as you can see, his job is a lot more than a title. He's actually aiding in the sexual health of older men, which is pretty cool, and totally not giggle-worthy.
It appears that Evan has had a long career in men's sexual health. For close to 10 years he has held jobs pertaining to the field, with positions like director, advertising buyer, and general manager.
According to John Hopkins Medicine, an expert in ED can diagnose and determine the cause of a problem, and then suggest treatment that best suits the patient. Sounds like Evan is fighting the good fight, one penis at a time.