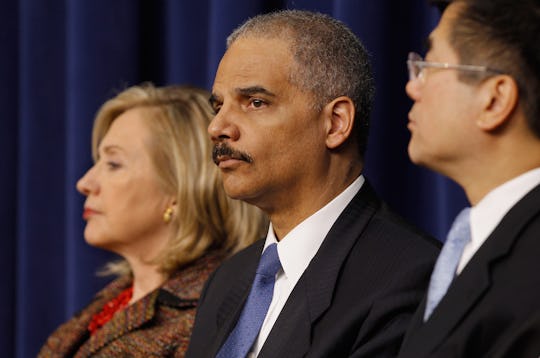 Chip Somodevilla/Getty Images News/Getty Images
What Is Eric Holder Doing Now? The Former Attorney General Is Practicing Law Again
Former Attorney General Eric Holder is slated to speak on Tuesday night at the Democratic National Convention. The night, themed "A Lifetime Fighting For Children & Families," will begin with the roll call vote to elect the party's presumptive candidate, Hillary Clinton. Headlining speakers include former President Bill Clinton and Mothers of the Movement — a group of women united by both the deaths or near-deaths of their children as well as their commitment to the Black Lives Matter movement. In addition to these headliners, Holder will speak alongside the likes of actors Lena Dunham, America Ferrara, and Tony Goldwyn, as well as Cecile Richards, the Planned Parenthood Action Fund President, according to CBS News. He hasn't been an oft-spoken name in the political sphere as of late despite some recent Airbnb news, so what is Eric Holder doing now?
Holder served six years as the Attorney General in the Obama administration starting from his nomination to the position in 2008. Through out his time working with Obama, Holder faced tough legal scenarios including how to prosecute terrorists, how to deal with suspicious or criminal financial institutions, to defending the right to vote. Additionally, Holder secured his status as a civil rights activist, fighting for LGBT and racial equality. Holder resigned from his position in 2014, stating, "I think I go out having accomplished a great deal in the areas that are of importance to me. I'm satisfied with the work we have done." Though conservatives celebrated Holder's departure from the position, he remained respected by his party as well as the president.
After stepping down, Holder returned to his previous gig as partner in a D.C., private law firm. In reflecting on whether or not he missed his stint as AG, Holder told The Washington Post that the constant conflict and expected "decorum" were not within his inherent nature, saying "When people hit me, I want to hit back. That is not necessarily a productive thing in the congressional arena."
Just last week, Holder was hired by the hotel-sublet hybrid Airbnb to, as the company puts it, "help craft a world-class anti-discrimination policy" in wake of the recent exposure of racism against its customers of color.
It's likely that Holder's address on Tuesday will speak to the civil rights concerns he's fought so dearly for. He continues to voice his beliefs on Twitter — a platform he joined in wake of the shooting at a church in Charleston in June of 2015. Of course, whatever he does, his legacy as a fighter for the underrepresented is sure to be marked down in the history books.