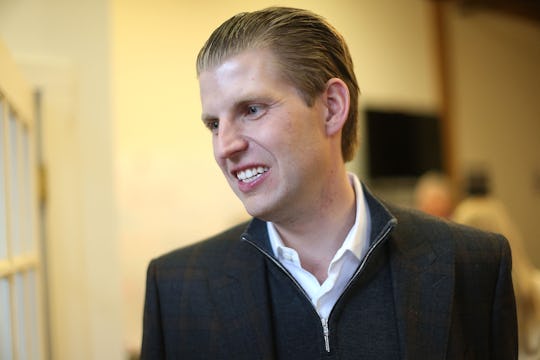 Joe Raedle/Getty Images News/Getty Images
What Is Eric Trump's Job? He's A Businessman & Philanthropist
Donald Trump's 32-year-old son Eric Trump has been a consistent supporter of his father's candidacy. On Twitter, in interviews with news outlets, and in person on the campaign trail, Trump has shown unwavering loyalty. A graduate of Georgetown University, Trump split from the family trend of attending the University of Pennsylvania in order to pursue his own interests. But, aligning once again with family tradition, Trump began working for his father immediately upon his graduation. With a myriad of business ventures and a couple philanthropic endeavors on his CV, there isn't one straight answer as to what Eric Trump's job actually is.
Currently, Trump is busy as a "key campaign adviser" for his father, along with his two older siblings Donald Jr. and Ivanka. Trump has frequented the Fox News network, criticizing Hillary Clinton while attempting to bolster his father's reputation, multiple times. Perpetuating the conversation online, the majority of Trump's Twitter feed pertains to his father as he retweets favorable polls, quotes, and news articles. Eric Trump will also speak on the second night of the Republican National Convention after his half-sister, Tiffany Trump.
Before Trump was involved in his father's politics, he was given the title of Executive Vice President of the Trump Organization — a role he shares with older siblings Donald Jr. and Ivanka. Since 2013, Trump has worked primarily with the organization's golf empire, establishing courses worldwide. Trump also reportedly runs the construction component of the Trump Organization.
In addition to golf and construction, Trump also leads Trump Winery, the success of which has been contested, though Trump has asserted "We are not only competing, but winning against the finest wines produced anywhere in the world." Since he began his run for the nomination, though, Donald Trump's celebrity has contributed to the current, booming financial success of Trump Winery.
Unlike his father, Eric Trump has presented himself as a dedicated philanthropist. At age 23, he founded the Eric Trump Foundation which has given nearly $30 million to St. Jude Children's Research Hospital in California. In 2015, the foundation also donated $1.5 million to create the Eric Trump Foundation Surgery and ICU Center.
Whereas Trump's past has consisted of a mix between father-funded business ventures and personal, philanthropic gestures, Trump has shown that his current priority exists as an adviser within his father's campaign. Though he didn't register in time for the Republican party's New York primary, Trump has pledged his loyalty to his father's candidacy time and time again, and will likely continue to do so through November. Who knows, perhaps a politically-minded promotion is the one that he's been waiting for.