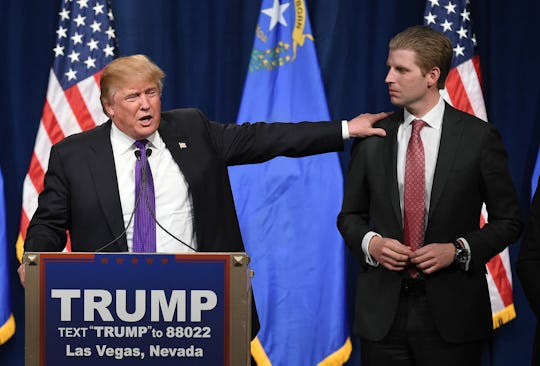 Ethan Miller/Getty Images News/Getty Images
What Is Eric Trump's Net Worth? The 32-Year-Old Has Millions To His Name
It's no secret that the Trump kids ride in style. Now that their millionaire father is the Republican nominee for president, their glamorous life is under the microscope like never before. While they've pursued different individual projects, Donald Trump's children have all maintained ties with the Trump empire. Tonight, the spotlight will be on the third oldest in the clan, Eric Trump, when he takes the stage at the Republican Convention. But what is Eric Trump's net worth?
The 32-year-old has an estimated $151 million dollars. That's a lot of dough. It's no wonder Eric chose to stay in the family business. After graduating from Georgetown with a degree in finance and management, Eric joined the Trump Organization. He's currently an executive vice president, managing the empire's wine and assets divisions.
It sounds like a pretty sweet gig. Eric travels around the world buying properties and renovating golf courses. Since he joined the company, Eric has expanded the number of Trump golf courses from three to 17, ranging in location from Miami to Scotland. But when it comes to golf, "The Donald" is very hands on.
"I was on the phone to him earlier for 20 minutes and he was asking: 'How is [hole] four looking? How is six? How is 18?' He was very envious of me being here," Eric told the Irish Times.
In addition to his work at the Trump Organization, Eric also started the Eric Trump Foundation, which raises money for St. Jude's Hospital.
This isn't the first time Eric Trump has caught the public eye. His 2014 wedding to CBS producer Lara Yunaska filled the society pages of newspapers around the country. Eric and Lara dated for five years before he popped the question, one fourth of July. As per the family tradition, the two married in Trump's lavish Mar-a-Lago resort in Palm Beach.
In a tragic twist, the bride broke both of her wrists horseback ridding just two weeks before their wedding. But she took the setback in stride, and concealed the casts with beautiful elbow-length gloves.
"I had to get creative with a way to make casts look bridal," she told People.com. "Fortunately, my wedding planner, Jennifer Zabinski and my designer, Preston Bailey, came up with some fabulously bedazzled gloves to try and blend these casts."
The ceremony was attended by 400 guests and officiated by none other than Ivanka Trump's husband. The two live in New York City with their dog, Charlie. And given how much Eric is worth, it's a guarantee that they're living the good life.