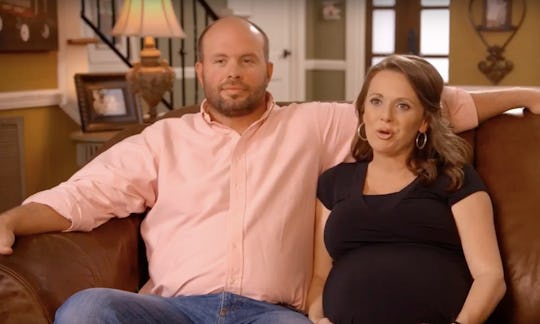 TLC
This Is What Eric Waldrop from 'Sweet Home Sextuplets' Does For A Living
When Courtney Waldrop gave birth to the first set of sextuplets born in the state of Alabama since 2011 (with three older kids at home), TLC must have known that it had the makings of a great new docuseries — following the lives of every day people suddenly raising nine kids, six of whom are infants. Looking at this from a practical vantage, viewers tuning into Sweet Home Sextuplets may be wondering: what is Eric Waldrop's job? According to AL.com, he co-owns a landscaping business called Robinson & Waldrop Landscape Group in Albertville.
According to the company's website, it was first established in 2005, and Eric and his co-owner, Jeremy Robinson, went to high school together. In fact, they also went to the same community college together for two years before transferring to Auburn University at the same time, and both getting degrees in landscape horticulture. What's more, Jeremy's wife Deidra is now the principal of their high school, while Courtney used to work as a first grade teacher in the same district's primary school.
As for how this remarkable family got its start, Eric and Courtney were childhood sweethearts, first meeting in eighth grade. They've been together for the 22 years since and their bond looks really strong on the show. In the premiere, viewers see the couple sharing night watch duties, each crashing on a separate couch in their living room, which is big enough to accommodate the six babies' bassinets.
But though Eric seems comfortable in his career, nine kids can get pretty pricy. Luckily, Courtney and Eric have a tight-knit community with deep roots who stepped up to help when the couple first learned they'd be giving birth to sextuplets. It looks like their church really spearheaded the effort. Within days of getting all six babies home — 72 days after they were born — Courtney had volunteers on hand taking shifts to help with childcare on a 24-hour basis. Eric was there, too, of course, though it's not clear how long he took time off to be with his family. But it definitely seems like he's still involved with his landscaping company.
As for the costs associated with the high-risk birth (Courtney delivered the babies via C-section with a 40-person labor and delivery team) and baby supplies times six, the Waldrops' church organized a gender reveal 5k fundraiser run in the fall of 2017 to raise money for the family. The next summer, the Waldrops reciprocated the gesture by organizing what they pledged would be an annual event to benefit the community: the Waldrop Babies Give Back 5k Run. Proceeds from the inaugural event went to a local pregnancy center and the school where Courtney was a first grade teacher before giving birth.
Having TLC crews in their house obviously adds another layer to the chaos, but Courtney happily reported in an interview with Today that the camera crew seemed to have a sixth sense about when to give the family a break. "It was almost like they knew if it became crazy we'd stop and they'd let us get everything calm," she said. "We honestly never had to say turn the cameras off. They sensed it."
You can tune in for what the cameras did catch when Sweet Home Sextuplets airs Tuesday nights on TLC.