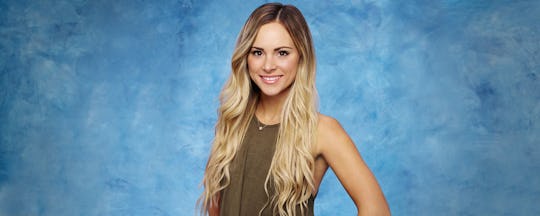 What Is An Esthetician? 'Bachelor' Contestant Amanda Stanton's Job Is An Impressive One
There are a lot of things we already know about Season 20 of The Bachelor. There will be drama, there will be tears, and Ben Higgins will have to make hard decisions about his future wife. But there are still questions lingering on fans' minds. And one revolves around one of the contestants we will meet, 25-year-old Amanda Stanton, an esthetician from California. While we're sure to learn a ton about her during the show's run, an esthetician is one job many know of... but can't really put into words. Though most of us have an inkling of what the profession is, what an esthetician does is sometimes hard to completely capture. So I'm here to help.
Seems Amanda is quite skilled, based on the description of the job. According to WiseGEEK, an esthetician focuses mainly on skin care pertaining to the face. While there are so many ways we work to improve our skin, this profession involves boosting its appearance through non-surgical means. So, not only can they help us even out our skin and prevent clogged pores, estheticians — who are also called skin care specialists — also provide cosmetic and grooming advice, which is sometimes hard to come by.
Considering many don't know how to pronounce esthetician (let alone what it is), many are also probably wondering just how someone comes to be one. Seems Amanda worked hard to get where she is. Like in many beauty-related professions, becoming an esthetician requires getting a license. After going through extensive training, which will vary by state, an applicant will be required to go through a practical and written exam, gauging what they learned. Upon passing, they are allowed to start working their magic on our skin.
While we may want to call them a cosmetologist, estheticians' work is a bit different. Simply put, cosmetologists' duties are bit more open-ended, focused not only the skin but hair and nails as well. But there are plenty of career opportunities granted by having an esthetician license. Though the first thing that comes to mind is working at a salon, estheticians have also been employed by makeup companies for consulting, medical spas, and even plastic surgery offices, explaining to patients how a certain procedure can affect our skin. So, the possibilities are endless.
And it seems Amanda is a woman who's willing to juggle plenty of tasks. After all, the Bachelor contestant is a professionally accomplished mother of two daughters, according to her ABC profile. And a strong one at that — she also said that she hiked "12 miles to a waterfall in Kauai during a thunderstorm."
So, yeah, this esthetician can handle any storm Bachelor sends her way.
Image: ABC