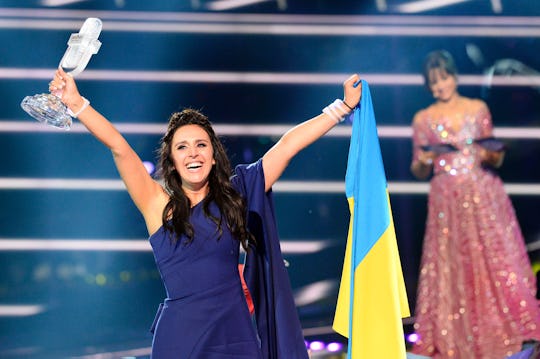 JONATHAN NACKSTRAND/AFP/Getty Images
What Is 'Eurovision'? The Contest Crowned Its Winner For 2016
Everywhere you look these past few days, it seems like everyone is talking about "Eurovision". The international singing competition was held on May 10, 12, and 14 with Ukraine taking the top honors for the year. To be honest, up until a few years ago, I had no idea what "Eurovision" even was. If you're still unsure and are asking yourself, what is "Eurovision"?
For starters, it is a singing competition but it is much grander than "American Idol" or America's Got Talent. According to the show's website, "Eurovision" is one of the longest running television shows in the world. The competition started in 1956, becoming a long running tradition in many European households. The show has been on the air for 61 years and has not stopped running, which is incredibly impressive for a singing competition. European countries from Latvia to Yugoslavia that are a part of the European Broadcasting Union participate in the event in hopes of winning the title for their country. But how does it work, exactly?
Each country that participates has to submit an original song sang by someone from their country, typically performed in the English language. They then perform the song on live television, where viewers at home and a judging panel vote for their favorite to win. Viewers at home, however can not vote for their own country to win. CNN describes the show as "the Oscars, Grammy's, Tony Awards, 'American Idol,' 'The X-Factor,' and 'America's Got Talent' all rolled into one — and then triple that."
Every year an estimated amount of 180 million viewers watch Eurovision, including those in the United States where it became a "cultural phenomenon." Despite not being able to vote for a winner in the competition, Americans were finally able to watch the 2016 broadcast on their TVs at home, airing on the Logo channel.
"Eurovision is a cultural phenomenon that we have admired from afar for years," Logo general manager Chris McCarthy said. "We are thrilled to bring the event to US audiences and cheer alongside with the rest of the world."
There is a good reason why Eurovision is such a phenomenon. Any clip from the show shows that its theatrics, costumes, and singing is one big celebration of countries and music that us Americans might not normally be exposed to. Plus, Eurovision introduced the world to ABBA, who are undoubtably the most popular winners of the contest, which makes it pretty amazing in my book.
While it might never be something those of us in the United States will be able to vote in, it is certainly worth watching and knowing about. The show promotes entertainment with unity providing a very enthralling program that only happens once a year.