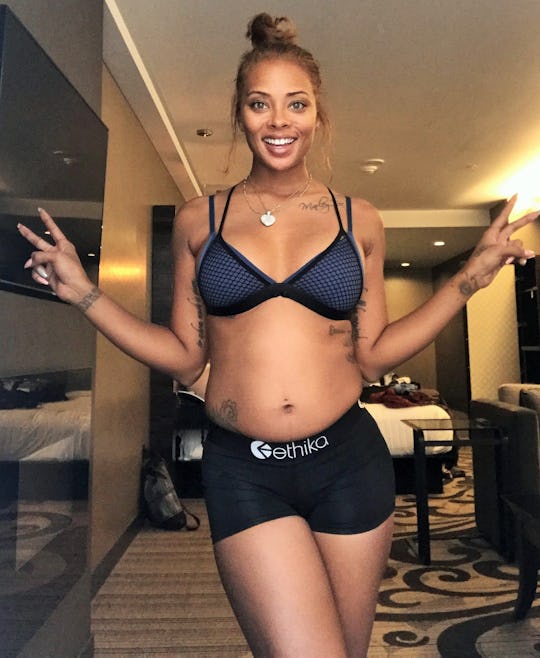 Courtesy of Eva Marcille
Eva Marcille Opens Up About Her Pregnancy & Recent 'ANTM' Reunion
Eva Marcille first rose to fame back in 2004, when she competed (and proceeded to win) the third season of America's Next Top Model. But what has she been up to since then? What is Eva Marcille doing now? I'm happy to say that both her career and personal life continue to thrive. In fact, the former ANTM star announced back in November that she and her boyfriend Michael Sterling are expecting their first child together. (They're having a little boy!) She also shares a daughter, Marley Rae, with her ex Kevin McCall.
In a recent phone interview with Romper, the soon-to-be mother of two opened up about her pregnancy and why she feels a lot more relaxed this time around than when she was pregnant with Marley, who is now three years old. Eva credits "yoga," and "a lot of shopping" as helping her to remain as stress-free as possible during her pregnancy. Though, that can still lead to some very dangerous results. "I went to Target for a new coffee maker and I got like every single thing I saw for a little boy," Eva admits. But hey, we've all been there, right? Plus, can you really blame her for getting excited to meet the newest member of her growing family?
But if you thought Eva was going to let a little thing like growing a human slow her down, then think again. In fact, she makes a point of staying as active as she can. "I'm still busy, I just have a bowling ball in front of me," she jokes.
How busy, you may ask? The model/actress/mother is now gearing up to appear on The Real Housewives of Atlanta's tenth season, which I personally cannot wait to see, and I know I'm not the only one. But, of course, I have no doubt that she's going to be a natural, considering this isn't the first reality show she's been apart of. Not to mention that she's added several other acting credits her name outside of ANTM.
Eva portrayed Tyra Hamilton on The Young and the Restless from 2008 to 2009 and appeared in several movies, including Sister Code. S, Crossover, and I Think I Love My Wife. Additionally, she also guest starred on an episode of Smallville, according to her IMDB page, which I'm now going to have to go back and watch. But her time on RHOA is sure to throw her back in the spotlight and give people (like myself) some definite ANTM nostalgia.
Speaking of nostalgia, it was recently revealed that Eva is returning to America's Next Top Model for Cycle 24 in a special "Throwback" episode, reuniting her with Nigel Barker 13 years later. I know that I am most excited to see fan-favorite and "noted fashion photographer" Nigel Barker judging the runway — and it just so happens that he's a favorite for Eva as well, who admits that seeing him proved to be the highlight of her return to the show.
"One of the most amazing parts for me was seeing Nigel," she confesses. "I was able to come back and do something with the girls and Nigel Barker." Eva credits a lot of her success on the show to Nigel's help. "He was very involved, I would like to say, with me winning," she states. "He rooted for me while I was on Top Model. He was somebody that spoke up for me and saw a place for me in the modeling business even though I wasn't conventional."
Well now I can't wait for the throwback episode as well as Eva's appearance on The Real Housewives of Atlanta. Either way, prepare for Eva to dominate your TV screens in the very near future. No complaints here!
Check out Romper's new video series, Romper's Doula Diaries:
Watch full episodes of Romper's Doula Diaries on Facebook Watch.