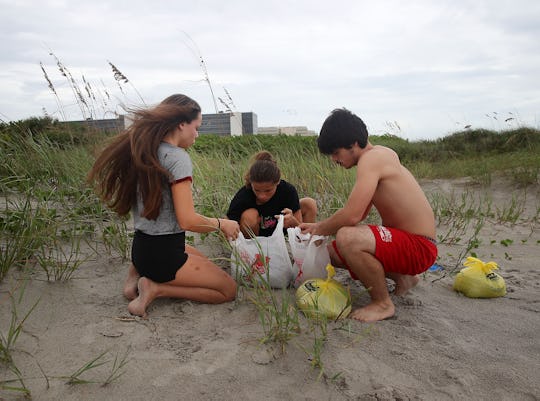 Mark Wilson/Getty Images News/Getty Images
What Is An "Evacuation Optional Zone" During A Hurricane, & Should Families In Them Leave?
With Hurricane Matthew preparing to bear down on the east coast of Florida, the National Weather Service has started sending out advisories to locals so they can stay safe when the hurricane makes landfall. The hurricane is expected to be severe: heavy rains, winds, and flooding that could put residents at risk. Many people in evacuation zones have left or are being urged to leave ASAP, but some people are in "evacuation optional zones." What is an evacuation optional zone, and should families in them leave?
Hurricane Matthew could be a Category 4 or 5 hurricane, according to meteorologists — making it the strongest hurricane to hit Florida since Hurricane Andrew in 1992, which killed 65 people. Matthew is expected to be at least as severe, leaving a wake of destruction that could end with families losing their homes or their lives.
During any natural disaster, the government can make recommendations to residents to leave the area expected to be impacted by the event. Florida Gov. Rick Scott told residents at a press conference to evacuate, according to WFTV:
We are going to get ready, but this is going to be catastrophic. If you need to evacuate and you haven't, evacuate. Time is running out.
Scott drove home the seriousness of the storm, urging residents to remember that hurricanes can change course at a moment's notice, and that they should not take any chances:
According to the official evacuation notice issued by Scott's office, more than 1.5 million Floridians are currently in evacuation zones. While many areas are under mandatory evacuation orders, enforced by the National Guard, some areas are under voluntary evacuation — or evacuation optional zone.
Voluntary evacuations are almost always directed to offshore workers or island residents who may be in the path of a storm or natural disaster — but have different evacuation requirements than those who live on the mainland. They are not strictly enforced; if you don't follow a voluntary evacuation order, it won't result in a penalty from the government.
Generally, voluntary evacuations are still strongly encouraged — and it is made known that not following the recommendation could result in a major loss of property or life. The website set up by the governor's office, Florida Evacuates, lists information about evacuation routes, shelters, power outages, and other accommodations for Florida residents.
Many families, in hurricane-prone states and elsewhere, have an emergency preparedness checklist. They are vital resources for making sure people remain safe in the event of a natural disaster or other emergency event. For hurricanes specifically, the Federal Emergency Management Agency (FEMA) provides the following tips and recommendations for families in evacuation zones:
Become familiar with alternate routes out of your area, and choose several locations to evacuate to — in multiple, different directions out of your town.
If you don't have a car, make arrangements with family, friends, or local government so you can evacuate if needed.
Put together an emergency kit with blankets, matches, flashlights, a battery or solar operated radio, food, and other supplies – ideally enough to last you and your family 72 hours.
Make arrangements for your pets: most emergency shelters don't allow pets, but they do allow service animals.
If you have time before you leave, call family/friends out of state and let them know where you're family is headed. You can also leave a note at your house saying where you are evacuating to.
Before you leave — if you have time and space — check with your neighbors to see if they need a ride.
Find out more about how to keep your family safe by visiting ready.gov