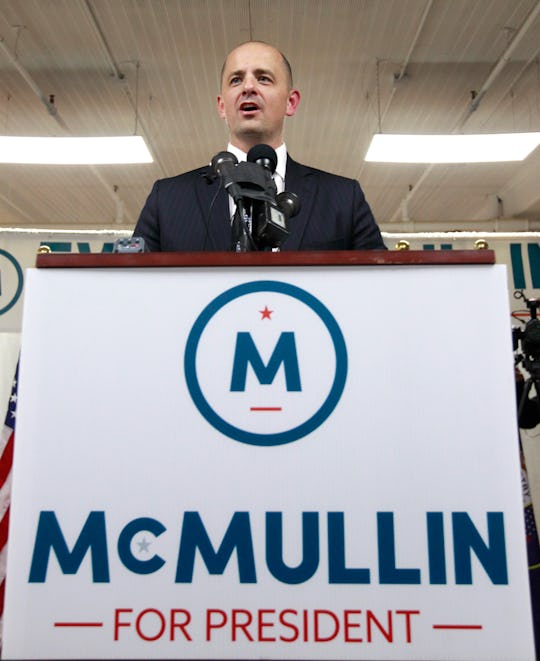 George Frey/Getty Images News/Getty Images
What Is Evan McMullin's Platform On Late-Term Abortion? He Wants To Overturn Roe v. Wade
You might not have realized it, but a former CIA agent is also running for president this year — except he's only on the ballot in 11 states. If he's on the ballot in your state (or even if he isn't, since you can technically write him in), you probably want to know where the Independent candidate stands on the issues. Let's start with Evan McMullin's platform on late-term abortion.
McMullin, originally from Utah, began his career as a Mormon missionary and went on to join the CIA. His work in counterintelligence operations took him all over the world, including to the Middle East. He left the CIA in 2011 and became an investment banker at Goldman Sachs. He most recently served as the chief policy director of the House Republican Conference. Although he's certainly no stranger to Washington D.C., McMullin has never actually held elective office.
McMullin is running on the Independent ticket, but many of his social views align with conservatives. Even though McMullin has dismissed Republican candidate Donald Trump as "a real threat to our Republic," he agrees with Trump on some issues, including abortion. On his website, his opinions on abortion are listed under "Life":
Our respect for life is the most important measure of our humanity. From conception to death - and any time in between - life is precious and we have a responsibility to protect it. A culture that subsidizes abortion on demand runs counter to the fundamental American belief in the potential of every person - it undermines the dignity of mother and child alike. Americans can and should work together to increase support and resources to reduce unintended pregnancies and encourage adoption, even if they may have different opinions on abortion rights.
While he doesn't say so explicitly on his website, McMullin told NPR that he's avidly anti-abortion and would repeal Roe v. Wade. The only thing he's actually committed to on his website, however, is eliminating public funding for abortions. Though the Hyde Amendment already prohibits public funds from being used for abortions.
Regarding any exceptions, such as in the case of late-term abortions, Romper reached out to McMullin's campaign for clarification on his stance. They responded via email:
Evan is pro life and strongly against late term abortions. Through healthcare reform and assistance programs, Evan advocates developing a culture that continues to empower women and their children.
McMullin also did an Ask Me Anything (AMA) on Reddit last week wherein he answered a user's question about Roe v. Wade and abortion a bit more directly:
The post draws what he considers to be necessary conclusions about the link between poverty and abortions — two things he's determined to eliminate.