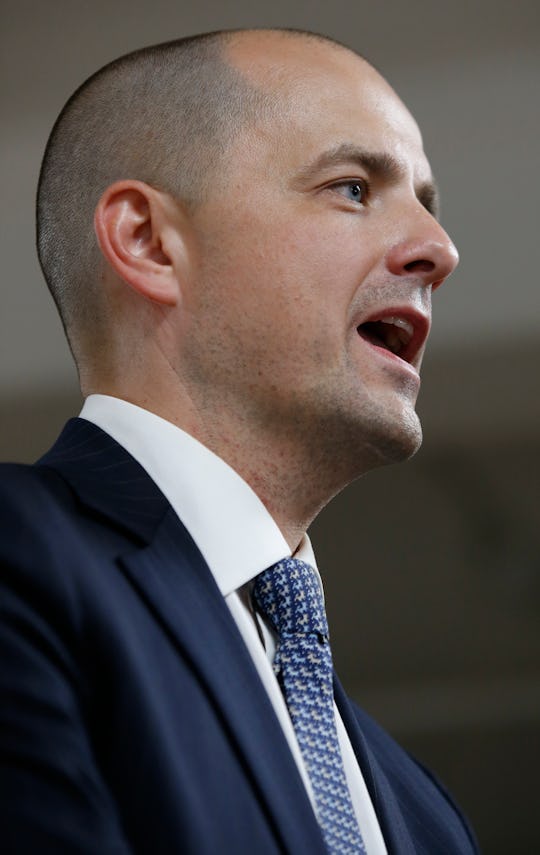 George Frey/Getty Images News/Getty Images
What Is Evan McMullin's Platform On LGBTQ Rights? His Religion Plays A Role
Largely because of his Mormon background, Independent presidential candidate Evan McMullin has a real chance of winning in at least one crucial locale: his home state of Utah. He's a CIA operative turned investment banker turned Republican strategist who's billing himself as the center-right, #NeverTrump option — and his faith is a true anchor in his life. That's undoubtedly good news for more conservative voters looking for an alternative to Trump. It's not the best news for progressives and activists looking for a president would would champion LBGTQ rights. According to his campaign website, Evan McMullin doesn't have a platform on LGBTQ rights, but in fairness, he's at least talked publicly (but briefly) about his stance on same-sex marriage.
And, actually, his stated position may be just a tad different that you'd expect. Of course, as a devout and dedicated Mormon, he's personally against it, as he told Bloomberg's Mark Halperin on With All Due Respect the day after he announced his candidacy in August. "My position on that is that, as a member of the Church of Jesus Christ of Latter-day Saints, I believe in traditional marriage between a man and a woman, but I respect the decision of the Court, and I think it's time to move on," he said at the time.
See that? I think it's time to move on. He's not dwelling on that topic, and, as he said later in the interview, he wouldn't make a point to seek out potential Supreme Court nominees would who overturn the Court's landmark 2015 decision that ruled that bans on same-sex marriage were unconstitutional in 2015. McMullin's whole handling of the topic — including the fact that LGBTQ rights are conspicuously missing from the "One The Issues" page of his website — suggests that it's not one he want to deal with or talk about. At all.
Despite his strong beliefs, this is not an issue he's willing to let disrupt his familial relationships, apparently. According to The Salt Lake Tribune, McMullins parents divorced while he was working for the CIA — and his mother married another woman soon after. And he's embraced her for it, it appears, as he told the Tribune that his mom is still one of his "best friends":
As far as my mother's marriage is concerned, I believe in the sanctity of traditional marriage. It is an important part of my faith. My mother has a different view. That is OK. I love her very much, and she is one of my best friends. She is a wonderful mother. I wish everyone could have a mother like my mom.
That, of course, is great, and the newspaper even reported that McMullin's mother and her wife have donated to his campaign. He says his mother's situation hasn't affected his thinking, but perhaps it's a least part of the reason that he said he doesn't feel "entirely comfortable with us using the force of law to make this decision for adults in our country," when it comes to same-sex marriage.
But same-sex marriage isn't the only LGBTQ issue out there, not by a long shot. In many states, transgender kids can't use the school facilities that correspond with their gender identity. Housing and employment discrimination plague many people who identify as anything other than straight, and LGBTQ youth experience homelessness at a much, much higher rate than their heterosexual counterparts.
These issues are real and pressing, and our next president should be ready and willing to tackle them in order to improve the lives of some of the most vulnerable and marginalized of American citizens. Evan McMullin, with his reticence to talk about even same-sex marriage and his erasure of the struggles and injustices LGBTQ people face every day, does not appear interested in taking on that challenge.