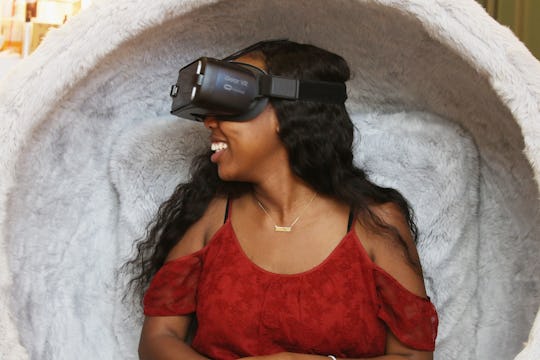 Tasos Katopodis/Getty Images Entertainment/Getty Images
Facebook Spaces Is On Its Way & The Future Is Now
Between being able to send money with the tap of a few buttons, having just about anything delivered within two hours, and meeting a potential new partner with a few swipes, technology is definitely taking over. Not that that's a bad thing. True, taking time out to enjoy nature, get outside, and just talk to people face to face is crucial when it's so easy to do otherwise, but that doesn't mean technology is without its merits. And Virtual Reality (VR) technology, is proving just that. Facebook's new app, Spaces, for example, is taking advantage of this trend. But what is Facebook Spaces and how do you use it?
In 2014, Facebook CEO Mark Zuckerberg bought the Virtual Reality company, Oculus. Now, nearly three years later, he's explaining why such a purchase was made. Facebook Spaces, which is still currently in beta (it's still in development and being tested), is a VR platform that allows users to mix and mingle with their online friends in a virtual world, cartoon characters and all. Although it's still being tested, one thing is certain: Anyone who wants to use the new feature will definitely have to invest in a pair of virtual reality goggles, specifically, an Oculus Rift Headset.
Then, though, it seems that the possibilities are endless. So, once you shell over your hard-earned $400, you can get to playing. According to a Wired reporter who was able to try out Facebook Spaces before it launched, the new VR world is just that — the world, at your fingertips:
There's a marker you can use to draw interactive 3-D objects, like sketching a hat, and then putting it on your friend's head. This being the internet, there's a mirror in which you can gaze upon your majestic cartoon countenance. (Don't act like you wouldn't do it.) There's also a selfie stick, which you can use to take a VR photo of yourself and your friends, and then post that photo to your real-life Facebook feed.
But he also described what is arguably the most notable feature of the new app, which is the ease of travel, something everyone can agree upon as being pretty awesome.
By using the Oculus touch controller, users are able to virtually go anywhere they like, as in the Wired article, when users were taken to "a 360-degree video of a Chinese nature reserve."
Obviously, Facebook Spaces isn't able to physically transport users to new places, but seeing a VR version of new places is still pretty cool. And whether or not you think the new app is taking technology too far, it's here, it's happening, and there's no stopping it. Enjoy it.