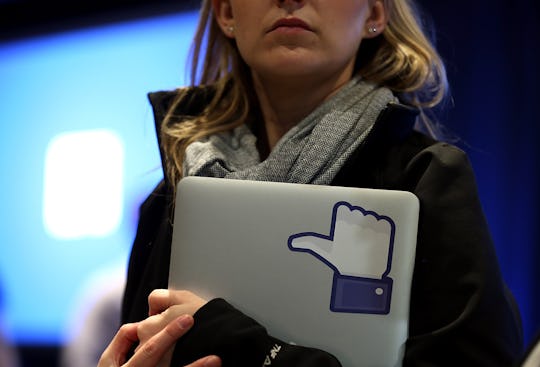 Justin Sullivan/Getty Images News/Getty Images
What Is Facebook Yellow? The Employee-Only Features Everyone Should Know About
Mark Zuckerberg inadvertently showed off some special Facebook features this week that has the most social media savvy dying to know what Facebook Yellow is and when they will get to use it. The CEO made a video on Monday demonstrating how to use the social network's newest live-streaming video feature, Facebook Live, but he also gave everyone watching a sneak peek at the internal Facebook Yellow app while doing so. The features on Zuckerberg's app are for employees only and may or may not be offered soon to the general public.
Zuckerberg, perhaps realizing what he had just done, closed the video saying, "You might have seen some stuff in there that we're just playing around with and testing." Almost immediately, the Internet responded by tweeting their need for the internal app. Like, now.
When Zuckerberg opens his Facebook app, he has so many more choices than us laymen. A Facebook spokesperson told Business Insider that the first new feature is about changing that "what's on your mind" prompt when you sign in. "We've re-designed the 'What's on your mind?' menu at the top of your News Feed to inspire people and make sharing on Facebook more fun and dynamic," they said. But there's more to it all than just adding an emoji on Zuckerberg's Facebook Yellow. So what other features await us after an update? So many good things.
Give Us The GIFs
Twitter recently gave some users access to search keywords and pull up corresponding GIFs. From the looks of Mark Zuckerberg's "internal build" version of the app, it looks like that capability would be available to regular people very soon. If some of the other features "may or may not" make it to the general public anytime soon, this is one feature that Facebook users should look forward to. Everyone loves a good GIF.
More Music, Please
This is where Zuckerberg may have been giving some hints (knowingly or not) about where Facebook, as a company, wants to go. There have been rumors in the tech crowd that Facebook was looking to make partnerships with music labels to start their own version of a streaming service. But maybe streaming isn't what the social network is about. They've tried to get in business with labels before, by adding "listen" buttons to artists' page. Zuckerberg didn't give us a sneak peek about what his Facebook Yellow Music option does. It's probably still in the works and buried in legal contracts. It would have to be more than just being able to post what song you are jamming to while you update your status. Please, Facebook Yellow, be better than that.
Slideshows. Or Not.
Zuckerberg also had an option for "slideshows" on his app that made some speculate that users would be able to share pictures as slideshows. More likely, though, this one falls into the category of not being a feature made available to users. If you work in marketing and advertising, though, that feature speaks volumes. It could be a new way for the social network to offer ads to users in their Newsfeeds without being too intrusive. Or actually, as a way to be a little more intrusive while being enticing for users, too.
Whether you're into using GIFs to communicate to all of your old college friends or are into seeing if you can share music via your Facebook status, one thing is very, very clear. Facebook is still cool, and might even be getting cooler very soon.