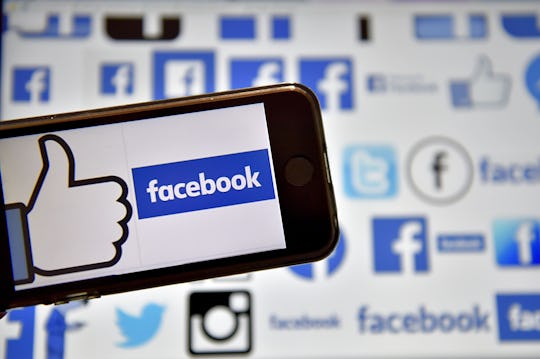 LOIC VENANCE/AFP/Getty Images
You May Soon Be Able To Mute Your Politically Backwards Relatives On Facebook
I'll admit it: I'm an annoying Facebook friend. I'm that friend that constantly shares posts with no concept of space or time. I'm also that friend who changes her profile picture more often than she should because she gets bored easily with visuals. And I'm that friend who rants and raves (well, sometimes). So what do you do with me: Unfriend or unfollow completely? What about a third option: Snooze? What is the Facebook's "Snooze" feature, you ask? It's a way to put some distance between you and that certain friend without having to give up their feed permanently.
According to Adweek, Facebook is testing a feature that will allow users to take a catnap away from their friend's posts for a set period of time. You could also use the "Snooze" button to hide posts from groups or pages for as brief as 24 hours to as long as 30 days.
The new option was first discovered by TechCrunch, and later confirmed to Adweek's Social Pro Daily by a Facebook spokesperson. The spokesperson told the outlet,
We're testing new ways to give people control over their News Feeds so they can stay connected with the stories they find most relevant.
So how does Facebook's "Snooze" feature work? According to TechCrunch, you would click on the three dots that appear at the top of a post to get to the drop-down menu. Where you'd once see the choice to unfollow, you will now have the option to "unfollow or snooze." Once you tap on that button, you will get to decide if you want to take a break from a friend, page, or group for a day, week, or month — or forever.
As TechCrunch reported, the "Snooze" feature is another evolution in how Facebook users get to interact with their feed and control what they see. Five years ago, the social media network introduced the "See Less" option, which didn't accomplish much because users could still see that certain friend in their feed. According to TechCrunch, Facebook replaced "See Less" in 2014 with the "Unfollow" button, which gave people the power to ignore friends without unfriending them. The "Unfollow" option pretty much allowed to you to avoid the drama of a friendship fall-out.
Snooze, on the other hand, offers users a less severe way to mute their friends or groups, or pages they've liked. The feature also, as Quartz pointed out, could also help Facebook Groups keep members who may want to bounce because there are just too many posts coming in at once. (I know I've been there, done that.)
The "Snooze" feature is just in the test phase, though. According to Quartz, not everyone will have access to the option. It is just one of many tools the social media network is testing at the moment. Usually, these Facebook feature tests are run on a limited number of users — typically between 10,000 and 50,000 accounts, Quartz reported.
Hopefully, though, all Facebook users will soon have access to the "Snooze" button. Right now, the social media site controls how little or how much of a person's feed you see based on likes, clicks, comments, and shares, according to TechCrunch. But with the "Snooze" feature, you will at least have a little more control over how you cut through all the noise.
For me, that'll mean not seeing as many click-bait articles that spin me into a rage because of their exaggerated headlines and misuse of words. No, those jokes from that famous comic about that new, expensive phone weren't "literal fire," trending pop culture website. But I digress.