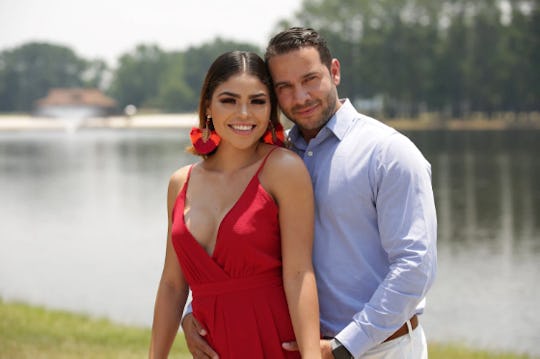 Fernanda's Instagram Holds Some Clues To Her '90 Day Fiance' Storyline
Fernanda is one of the youngest people on TLC's 90 Day Fiancé in Season 6, and at 19 years old, she's technically Generation Z. So it should come as no surprise that she knows her way around social media. But what is Fernanda from 90 Day Fiance's Instagram? She's definitely a digital native.
The oldest image on Fernanda's Instagram is actually from May 2016, so she's been pretty social media savvy for awhile now. But she's ramped up the posts since she became a 90 Day Fiancé cast member, giving fans some very interesting insight into her relationship with Jonathan outside of the show.
If fans take a look at both Fernanda and Jonathan's Instagram accounts, they'll see what looks like a happy couple. Fernanda's Instagram page is packed with images of the couple. Fernanda also uses her Instagram for blogging and posting about fitness, make-up, and fashion. She lists those interests on the page as well as "lifestyle" and "travel." She also definitely uses it to promote 90 Day Fiancé, but she's had the account much longer than since she was featured on the reality series, so it's not just for promotion.
Fernanda is 19 years old and from Mexico, according to TLC. Her fiancé Jonathan, on the other hand, is 32 and from North Carolina. So they already had some challenges ahead for their relationship from the start. In fact, as TLC reported, "Jonathan sometimes wonders if their 12-year age difference could be the demise of their relationship."
The pair met at a club in Mexico, and were engaged after only 3 months, TLC reported. This was a surprise even to Jonathan, who is used to being a bachelor. He never expected to meet anyone when he went on vacation to Mexico, but sometimes life throws you curveballs, I suppose.
Unfortunately, even if Jonathan is convinced he's ready to settle down and Fernanda is more than happy to move to the United States to be with him, it doesn't look like it's going to be all sunshine and rainbows from here on out for this 90 Day Fiancé couple.
In one TLC sneak peek video, Fernanda gets into a fight with a woman dancing with her fiancé, and Jonathan says, "Fernanda can be a very jealous person." That's not a great sign for couple that's already under a lot of pressure to get married in just 3 months or so.
90 Day Fiancé fans can't be 100 percent sure Fernanda and Jonathan will stay together after the season is over, but there's a pretty good chance they stuck it out based on their Instagram pages. Eagle-eyed fans noticed several shots on both their pages where Jonathan is wearing a wedding ring, or at least what looks like one.
Maybe it's all an elaborate ruse, and Fernanda and Jonathan truly break up at the end of the sixth season of 90 Day Fiancé. But if viewers continue watching the show, and keeping an eye on Fernanda's Instagram page, they'll know for sure.