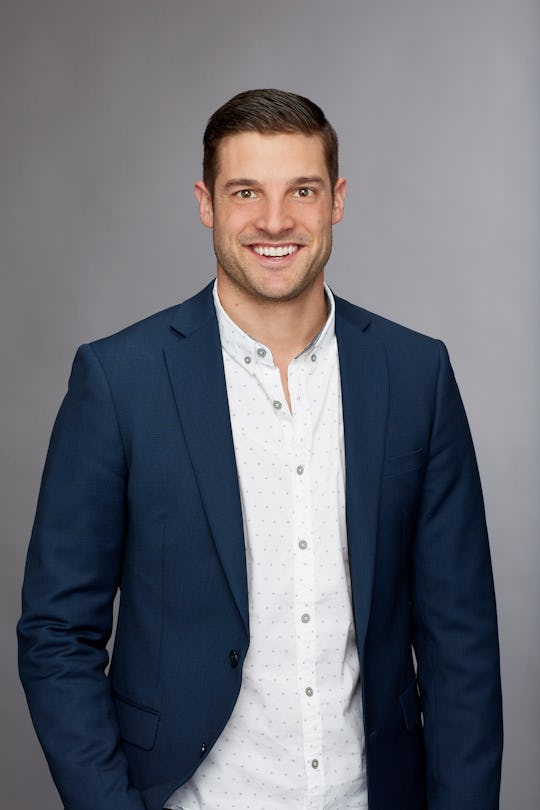 Craig Sjodin/ABC
Garrett Is Already Winning Hearts On 'The Bachelorette,' So Here's What You Need To Know About Him
Memorial Day is great for a few reasons: it signifies the unofficially beginning of summer and the beginning of the new season of The Bachelorette. On Monday night's premiere Becca met all her suitors, like Garrett. What is The Bachelorette's Garrett's job? It may fall in the category of classic Bachelor franchise contestant profession.
In his ABC biography, Garrett takes note of his passion for fly fishing. "Raised in a small town in Central California, Garrett is a true outdoorsman who loves fly fishing, hiking and snowshoeing. When he's not on an outdoor adventure, he's perfecting his Chris Farley impression. He's excited to find love with the Bachelorette…down by the river," it says — poetic! During the premiere, he even gave Becca a fishing demonstration that she must've loved so much she gave Garrett her first impression rose.
But Garrett isn't a professional fly fisher (which Becca is probably grateful for, seeing as her ex Arie was also into an offbeat professional sport: race car driving). No, instead Garrett listed his career as "medical sales representative." What does this mean? A medical sales representative is defined as anyone selling or representing a product or service that could be utilized by people in the medical industry. A typical day for a medical sales rep varies but includes talking to customers (such as doctors or nurses) and trying to arrange meetings to meet sales goals. Not the most exciting industry, but certainly an important one.
According to OK! Here's the Situation, Garrett's specific job is surgical technical consultant. It seems that he's deleted his social media presence — and he doesn't have a LinkedIn — so there's not much more sleuthing to do. To me, though, it seems that Garrett's personal life may be more interesting than his job — which could be why he showed off his fishing skills to Becca as opposed to his sales skills.
Before The Bachelorette, Garrett was married to a woman named Kayla Cunningham. The two wed in 2015 but were divorced just six months later. Chris Harrison discussed some of his favorite contestants from this Bachelorette season with People; one of them is Garrett, and he touches upon his past: "There's a little backstory to Garrett. He's heartbroken, and it wasn't that long ago. So he's a little bit reluctant and he's definitely a very slow mover, which is very difficult for Becca to handle. That will come out over time," Chris said.
Chris Harrison also commented on Garrett's instant connection with Becca: "He made a very good first impression. He has a lot in common with Becca. She is kind of goofy and funny in a nerdy kind of way, and so is Garrett. They really get along well from the beginning." He continued, "Garrett is that guy that always makes it about Becca. He always puts her at ease. So she gravitates toward him."
This is a good sign, despite his heartbreak. What's not so good, however, is what HuffPost found on his Twitter account. Garrett had apparently "liked" social media posts mocking Parkland shooting victims and undocumented immigrants. That's not all; some posts Garrett liked appear to be transphobic or racist in nature. That's a pretty awful look, especially because Becca seems smitten with him on the show. Then again, it's only the premiere episode, and there's a ton of the season left to go through.
Will Garrett end up the winner of The Bachelorette? It's certainly too soon to tell, but he's definitely a controversial candidate from the start. I hope whomever Becca decides to "do the damn thing" with, she knows about their past — disturbing social media posts and all.