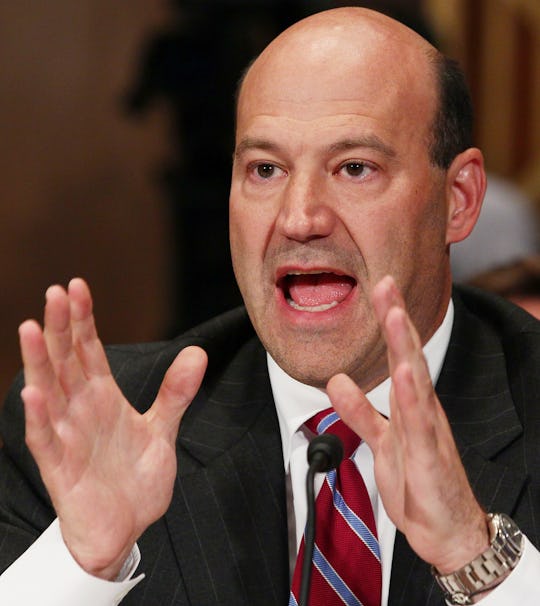 Mark Wilson/Getty Images News/Getty Images
What Is Gary Cohn's Net Worth? The Goldman Sachs Executive Is Trump's New Economic Adviser
Setting rumors to rest and possibly adding another powerful multimillionaire in Donald Trump's White House, the president-elect on Monday announced through his transition team that he would appoint Goldman Sachs executive Gary Cohn to be his chief economic policy adviser. Cohn, a 25-year Goldman Sachs veteran and now the the investment bank's second-in-command, would essentially help the incoming president tackle the biggest economic issues facing the nation. But with Trump's administration tapping yet another wealthy businessman, each new member's financial interest in their respective companies have some concerned. So, what is Cohn's net worth and how might it affect or influence his prominent post at the the National Economic Council (NEC)?
In short, the Wall Street banker has made a good fortune over the years. CNN Money reports that a review of filings shows Cohn has made "at least $123 million in total compensation since becoming the bank's sole president and chief operating officer in 2009." Meanwhile, Bloomberg reports that if the 56-year-old does become Trump's head of the NEC, his payout — a figure that is contingent on a exit plan built for executives who leave the firm for government service — would be about $58.5 million. He could also walk away with an additional "$266 million of stock and awards amassed during more than a quarter century at the investment bank," according to the outlet.
And although Trump repeatedly bashed the banking firm throughout his campaign — having once said that the guys at Goldman Sachs have "total control over Hillary Clinton," according to CNBC — Cohn will be the third former Goldman Sachs employee whom Trump has asked to help him run the country after he is sworn in on Jan. 20.
If Cohn — who has worked at Goldman Sachs since 1990 and currently serves as Goldman Sachs' president and chief operating officer — accepts the economic position, which does not require Senate confirmation, his appointment will follow Trump's Treasury secretary pick Steven Mnuchin and chief strategist Steve Bannon, both of whom are Goldman Sachs alumni.
"Being chosen to serve in the President-elect's administration is a great honor," Cohn said in a statement on Monday, according to NBC News. "I share President-elect Trump's vision of making sure every American worker has a secure place in a thriving economy, and we will be completely committed to building a nation of strength, growth and prosperity."
As the wealth within Trump's administration continues to rise, so does concern felt by many Americans — including Wall Street critic Sen. Bernie Sanders — that conflicts of interest may affect how key financial decisions are reached by the names filling these essential political positions.