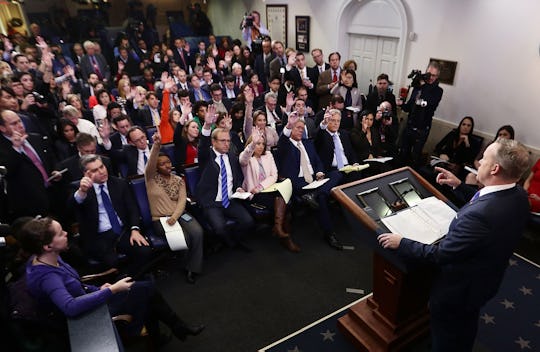 Alex Wong/Getty Images News/Getty Images
Controversial Website Gets White House Credentials
The White House press briefings serve as the important link between the public and whats going on behind closed doors in Washington. But what does it mean that now one conservative website, Gateway Pundit, has been granted White House credentials? Surely, those outside the realm of politics will be wondering, what is Gateway Pundit? And more importantly, what is the site all about?
Gateway Pundit is the latest conservative website to be granted White House credentials at the "invitation of Trump's team," according to Politico. The website boasts the tagline, "Where hope finally made a comeback." There is no denying that the website is conservative, with its headlines taking a more subjective approach towards politics and news. According to Politico, the website is reportedly known for publishing "obvious hoaxes as legitimate news and headlines," though the site would beg to differ. And as The Washington Post noted, the blog has been criticized for allegedly spreading "false and unsubstantiated information" and was was considered by its critics to be responsible for reportedly helping promote the idea that Hillary Clinton has "some kind of grave, undisclosed health problem."
The website, which has been around since 2005, according to Politico, has a pretty large following, and has amassed over 600,000 followers on Facebook. According to Gateway Pundit's website, publisher Jim Hoft claims that it is "one of the top political websites" garnering "12 million views each month." It is also important to note that Hoft is a friend of Trump's chief strategist and former Breitbart news editor, Steve Bannon, according to Politico.
While the website may have an "in" with some conservatives, it now has an "in" at the White House — as Gateway Pundit reporter Lucian Wintrich was allowed to sit in during the last press briefing on Tuesday. According to The New York Times, with these credentials, Wintrich will now be allowed to ask White House Press Secretary Sean Spicer questions. This, according to Politico, represents the Trump administration's fight with the media for control of "The Narrative." And as CNN surmised, Gateway Pundit's access into the briefing room could allow Spicer to seek out "friendly questions" and avoid controversy related questions. (Not entirely unheard of in politics, but concerning nonetheless.)
But, according to The New York Times, Wintrich plans on bringing a different view point to the briefing room. Wintrich told The New York Times, he would be "reporting far more fairly than a lot of the very left-wing outlets that are currently in the briefing room," and that he would be "doing a little bit of trolling of the media." Wintrich did not specify what he meant by trolling in his interview with The New York Times. On Friday, Gateway Pundit editor Jim Hoft shared his excitement about expanding the website's coverage to Washington D.C. "With the false narratives that the liberal media is continuously spinning, we see the expansion of more conservative new media as vital to keeping the public truly informed," he said.
Gateway Pundit's White House press credentials could mean any number of things, including, perhaps, an effort to balance out coverage from both liberal and conservative news websites or an opportunity for more positive press from the White House. Gateway Pundit is just one conservative news site that has been allowed representation in the White House, of course, but for now, it's undoubtedly one of the more controversial.