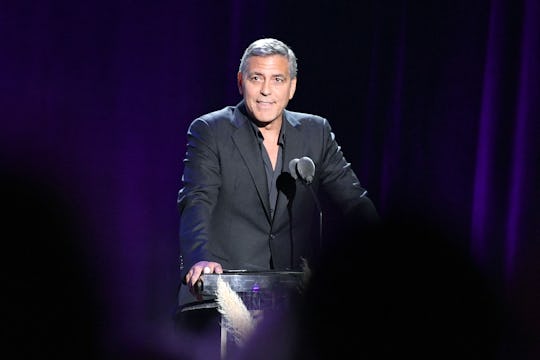 Mike Windle/Getty Images Entertainment/Getty Images
Just How Much Has Clooney Made In Hollywood?
When Beyoncé announced via Instagram post that she was pregnant with twins, it seemed as if all was finally right with the world. But on Thursday, Feb. 9, reports surfaced that Amal Clooney is pregnant with twins and due in June. With such high-profile parents, many assume that the Clooney kids will want for nothing. But what is George Clooney's net worth? What is his incredibly talented partner's? Jumping to conclusions on what the Clooneys will or won't be able to provide for their children is a gross miscalculation of everything the twosome stand for — and assuming that money will be the Thing they give to their children is unfair and frankly, disappointing. As it stands the report that Amal is pregnant and due early this summer remains unconfirmed. Romper reached out to both Amal and George for confirmation on the report, but did not hear back at the time of publication.
The Talk host Julie Chen announced the news of Amal's pregnancy on the daytime talkshow. "Beyoncé is not the only superstar expecting twins," Chen said, adding, "Congratulations are in order for George and Amal Clooney!" According to Us Weekly's report, an insider confirmed the pregnancy news to the publication.
According to TheRichest.com, the male counterpart of the Clooney duo is worth an estimated $180 million. Clooney, who is 55 years old, made his splash onto the small screen with ER and has since showed off the depth and breadth of his acting chops in more than 76 film and television appearances. Films like One Fine Day, Batman & Robin, O Brother, Where Art Thou?, The Perfect Storm, and Ocean's Eleven, Ocean's Twelve, and Ocean's Thirteen helped solidify his status as an international icon while his charming good looks helped position him as The Most Eligible Bachelor on the Earth. That is — until he met Amal.
Clooney won the Best Actor in a Supporting Role Oscar in 2006 for his portrayal in Syriana and won again in 2013 for his role in the production of Argo, which was nominated and took home the Oscar for Best Motion Picture of the Year. In 2015, Clooney was honored at the Golden Globes with the Cecil B. DeMille award. Throughout his career, he's also taken home several more Globes: in 2001 for Best Actor in O Brother, Where Art Thou?; in 2006 for Best Actor for Syriana; and again for Best Actor in 2012 for The Descendants. But his monetary standing doesn't serve as the end all, be all of his ability as a soon-to-be dad.
This is very clearly an exciting time for the Clooney family, and their financial foundation should only serve as a testament to the hard work both partners have put into their careers. But just like any other parent, it doesn't mean George and Amal will be exempt from raising their kids to be individual people with good morals and good values. The price of raising honest, authentic, and all-around good people doesn't come with a price tag.