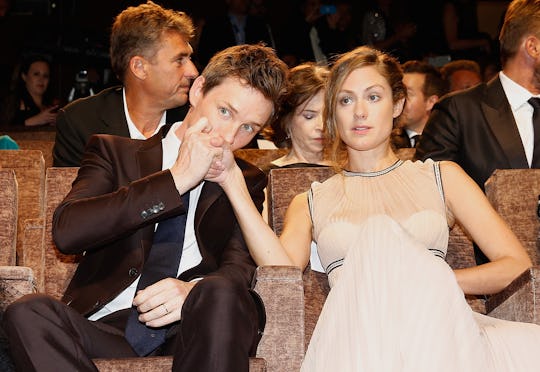 What Is Hannah Bagshawe's Due Date? Eddie Redmayne's Wife Is Keeping Things Under Wraps For Now
This awards season, Eddie Redmayne will boast two loved ones on the red carpet alongside him. Because The Danish Girl star's wife, Hannah Bagshawe, is pregnant with the couple's first child. But fans of the Oscar-winning actor are of course wondering when they might be able catch a glimpse at his baby after he's actually born. So when is Bagshawe due?
Unfortunately, though many will speculate once the couple hits the red carpet (not that anyone should — as Chrissy Teigen taught us, better to not talk about a pregnant woman's body), Redmayne has not given fans a concrete answer. In fact, when the couple announced they were expecting, they gave away few other details about their future child — and sources revealed that they don't want to know many more details either. According to the source via The Sun:
They don't want to find out the sex of the baby, but are happy to tell close friends and family they're expecting.
And of course they're happy — in fact, since getting married to Bagshawe in 2014, Redmayne has been singing his praises about his wife, who works as a publicist. Just see these quotes from the actor about his wife:
On How Bagshawe Keeps Him Down To Earth
"There was a moment yesterday where I was in rehearsal and my wife was calling me because our dishwasher broke down ... So in the process of trying to focus on my craft, I was dealing with the blocked pipes."
On How He Feels About Being A Newlywed
"I love being married. I feel so settled in my skin, so lucky to have the most wonderful, supportive, wife. I'm an ordered person, I need structure, and yet everything about what I do is the opposite. You have no control, you're subject to everyone else's chaos. I sometimes wonder if something is continuously forcing me out of my comfort zone."
On How She Handles The Fame
"I think saint might be the word ... She is an absolute saint. And it's a ride for both of us. It's wonderful doing it with someone you love because you also have a second eye on it all ... This whole industry is the most joyous, absurd circus. It's great to have someone when you get too immersed in it or drinking the Kool-Aid to say, 'Wait a second?'"
On How Redmayne and Bagshawe Are Just Like Us
Just see what the actor told E!, about how he and Bagshawe celebrated him wrapping The Theory Of Everything and Jupiter Ascending: "Walk with [Bagshawe] in London and go to the Pizza Express for a La Reine with extra pepperoni. Real classy."
Okay, How They're REALLY Like Us
As Redmayne said on Jimmy Kimmel Live!: "My wife and I love Friends. We saw Jennifer Aniston at a party and we were just incredibly inappropriate. We so wanted to meet her that we sort of literally stalked about four meters behind her for an entire evening. Eventually I think she was like, 'Okay!' So we got to meet her and she was as beautiful and wonderful as you'd expect her to be... She could've turned around and slapped us for being stalkers."
On Being With Bagshawe In General
And here's guessing a baby (and a couple more awards?) on the way makes him feel even luckier.
Image: Tristan Fewings/Getty