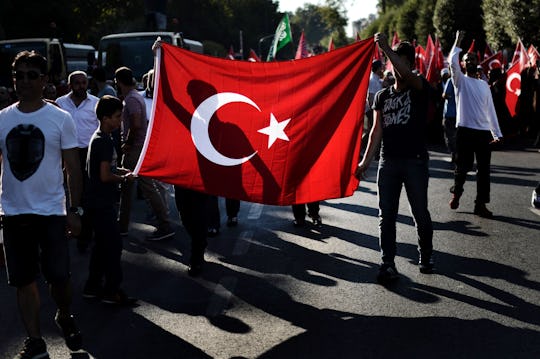 ARIS MESSINIS/AFP/Getty Images
What Is Happening In Turkey After The Coup? It's Complicated
After an attempted military coup on Friday, Turkey's government claims to have regained control. But just what is happening in Turkey after the coup is a lot more complicated than calling "game over." On Friday, military vehicles blocked the highways and according to CNN, they said that the "political administration that has lost all legitimacy has been forced to withdraw." But that changed a bit after President Recep Tayyip Erdogan returned to the country from vacation and claimed to have restored order. He said, "The government is in control. Fifty percent of the people elected the President and that President is on duty."
Turkish Prime Minister Binali Yildirim has ordered all military aircraft to be shot down. CNN reported that 60 people were killed in Ankara and 1,000 more are hospitalized. President Obama has said that he wants the people of Turkey to accept their democratically elected government — and not anyone driving tank through the cities. But Obama's position is as complicated as the situation on the ground right now. Politico reports that in April, Obama expressed concern for the NATO ally. Obama said of Erdogan, "He came into office with a promise of democracy and Turkey has historically been a country in which deep Islamic faith has lived side-by-side with modernity and an increasing openness, and that's the legacy he should pursue."
As of Saturday morning, the uprising is sort of under control, but all key air bases in Turkey have been closed. America uses those air bases to launch strikes against ISIS in the Middle East. Anything that happens in Turkey should be of concern to any American concerned with foreign policy. When Turkey is in trouble, like right now, our State Department has to deal with it since we partner with Turkey in the fight against ISIS.
Secretary of State John Kerry echoed Obama's position that the people of Turkey should honor the elected leader. Presumptive Democratic nominee for president Hillary Clinton issued a statement saying that America should "urge calm and respect for laws, institutions, and basic human rights and freedoms." She added that the safety of all Americans in Turkey and oversees should be a priority. Republican nominee Donald Trump remained quiet on the coup as of Saturday morning, but his running mate, Indiana governor Mike Pence blamed the coup on the "failed" foreign policy of the Obama administration (and therefore, former Secretary of State Hillary Clinton).
The effects of the failed coup in Turkey this week and how it affects American foreign policy remains to be seen. But it will take some insight and experience to ensure that the people of Turkey, and American interests in the region, are safe.