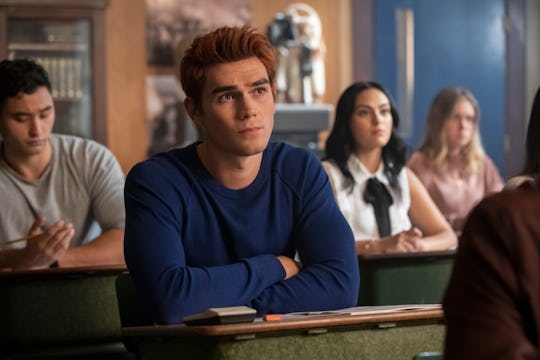 Jack Rowand/The CW
Here's Everything You Need To Know About 'Riverdale' Season 3 So Far
Season 3 of Riverdale is in full swing, and there's a lot going on that mysterious little town. From masked killers roaming the streets to a quarantine of the whole town, Riverdale is in its darkest days yet, and fans are anxiously waiting for Archie and the gang to swoop in and save the day. With so much drama a foot, you might want to know, what is going on on Riverdale?
Season 1 was all about the mysterious death of Jason Blossom, where the killer turned out to be none other than his father, Clifford Blossom. Season 2 centered around the Black Hood, a serial killer who was unmasked as Betty's dad, Hal Cooper. Now, in Season 3, the mystery revolves around a decades old role playing game called Gryphons and Gargoyles, a creepy Gargoyle King, and the deadly fizzle rock drugs that have been making their way around town.
Of course, while dealing with all the town's drama and the pressure of taking their SAT's, Archie and the gang still have their own individual demons to face. Betty is at odds with her mom about The Farm cult, Veronica is still fighting with her parents about everything, Jughead is learning to be the new Serpent King, and poor Archie is still on the run from everything and everyone.
If all this has you lost, here's a breakdown of what Archie, Betty, Veronica, and Jughead have been up to on Riverdale this season.