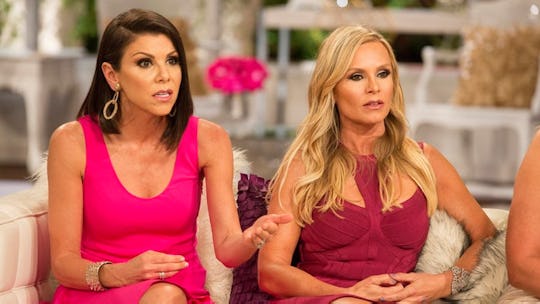 Isabella Vosmikova/Bravo
Heather Dubrow Is Doing Well For Herself After 'RHOC'
When Heather Dubrow announced she would not be returning to The Real Housewives of Orange County, fans cried into their hexagonal ice. (I have no proof of that, I'm just assuming.) The news came as something of a surprise, as typically when Housewives leave the franchise they're starring in their own spin-offs, have stormed off in a fit of anger, or, worse, they've been fired. Neither was the case for Dubrow, who simply decided she had new opportunities on the horizon. So what is Heather Dubrow doing after RHOC?
Back in January, Dubrow announced that she would be leaving RHOC on her podcast, Heather Dubrow's World. She explained the reason behind her departure as both a decision for the well-being of her children, and a chance to explore the new opportunities the show has given her. "My oldest kids are now teenagers, and I just felt like they need to make their own decision about being on television and exposing their lives," she said. "And for me personally, I have some really cool, interesting opportunities that I want to explore."
Heather has remained quiet about what those "new opportunities" are, though her husband, Terry Dubrow, recently opened up about her plans. "Heather, honestly, is busier than ever," he told The Daily Dish. "She's got two new projects that are going to come out soon." The couple is also working on a new podcast together called Dr. and Mrs. Guinea Pig.
Much like a true millennial, Heather has found her calling on YouTube, in a web series called Heather's Closet where she takes fans... inside her closet. Sometimes she has celebrity guests, sometimes she isn't even in her closet, but she is always very purely Heather.
Dubrow is truly leaning into the world of digital content via yet another web series called Celebrate With Heather, created by Evite, in which she teaches us normals how to plan an amazing party. You can also, of course, listen to Heather's podcast, which drops new episodes every Friday and in the past has featured celebrity guests like Jamie Lynn Sigler and Roger Clinton.
In case that isn't enough Heather for you, the woman who introduced us to the world of leech therapy is also very good at social media and regularly updates her Twitter and Instagram accounts. For anyone not following her (which is a major oversight), she recently went through the harrowing experience of having a lizard crawl on her. When she took her mini-horror story to her Twitter followers, she was shaken by the answers she got.
So, yeah, she may not be a Housewife anymore, but Heather is proving that she is just as much fun as ever. Here's wishing her all the luck in the world.