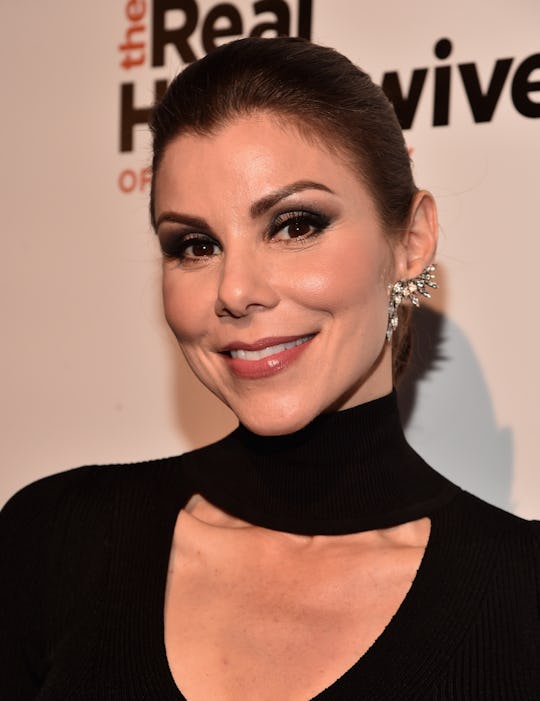 Alberto E. Rodriguez/Getty Images Entertainment/Getty Images
What Is Heather Dubrow's Net Worth? The Real Housewife Is Called Fancy Pants For A Reason
Heather Dubrow has always lived an especially affluent lifestyle, even for a Real Housewives cast member. Along with her husband Terry and their four kids, they've moved into and out of more mansions than I personally remember, most recently building a home from scratch that could probably rival some palaces for sheer size and number of bathrooms. Though Heather has her own career, there's no denying a sizable portion of the Dubrow cash flow is thanks to Terry. Combined, their wealth is more than impressive. But what is Heather Dubrow's net worth?
Heather's net worth is estimated to be around $30 million, by Celebrity Net Worth (which isn't always accurate). Heather is an actress and has been working since the 90s, with small breaks throughout her career to take care of her kids. Though she worked pretty steadily she never cracked through to the big time, instead snagging guest or supporting roles on television shows such as Married with Children, Life with Roger, Jenny, Norm, and Early Edition, among others. Considering she was just starting out as an actress and it was twenty or so years ago, she probably wasn't making very much. Heather's post-Housewives return to acting likely earned her a little bit more money, but they were still just guest or supporting roles.
For example, according to Deadline.com it all depends on how an actor is billed – whether they're a major role, a credited guest star, or daily and/or weekly performers. It could earn them anywhere from a few hundred dollars to a few thousand. Only a very small portion of the acting workforce makes it big and starts earning major dollars. Luckily, Heather is now able to supplement her acting with her paycheck from RHOC. In 2012, it was reported that Heather earned $30k a season from the show, but now that she's a more established figure that has likely seen an increase.
Terry's salary does help to buoy the Dubrow funds, however. As a highly successful plastic surgeon with his own practice, Terry is definitely making bank. He's no stranger to reality TV himself, having first appeared on The Swan before later moving on to his current reality show Botched alongside other Real Housewives (ex-)husband Paul Nassif. His television popularity only serves to drive more clients his way. Healthcare-salaries.com reports that a high earning plastic surgeon could take home $820k a year with a yearly bonus of anything from $3k to $36k. With his own busy practice and his television fame, Terry is probably earning a good deal more than that.
Real estate helps too; Terry and Heather sold their last mansion for $16.4 million before purchasing land to start building their current home. They're definitely living the high life, and it seems like Heather's RHOC nickname Fancy Pants is pretty apt.