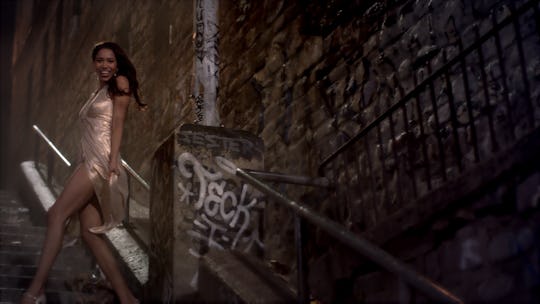 Netflix
What Is Herizen Guardiola's Singing Background? This Is 'The Get Down' Actress' First Role
Netflix's new musical series The Get Down is sure to be the next big summer show. Following on the tails of Netflix's other surprise smash hit Stranger Things, the Baz Luhrmann-created period piece about a group of musically-inclined teens in the 1970s Bronx is an incredible work of art. Like Luhrmann's films, the show leans heavily on music – it takes place on the cusp of disco's downfall and hip-hop's rise. Of course, the lead character were going to be a musically-talented group. Among them, Mylene Cruz (played by Herizen Guardiola) is a particularly talented songstress. But what is Herizen Guardiola's singing background?
Guardiola is definitely going places, with her natural acting skills and her incredible voice. Like much of the principal cast of The Get Down, she's also a newcomer in the truest sense. As Elle UK noted in their interview with the singer-songwriter-actress, the role of Mylene, an aspiring disco singer from a very religious family, is Guardiola's first acting gig. Around the same time as landing her role in The Get Down, Guardiola filmed a role in the TV One original movie, Runaway Island, her only other acting role to date.
Prior to her foray into the acting world, the 19-year-old star was focused on her music career. Guardiola told Elle UK that she "modeled to make a bit of money" in order to support her music, eventually deciding to sign with the theatrical wing of her modeling agency "for the heck of it." That decision turned out to be a great one – one of the first auditions she landed was for the role of Mylene in The Get Down, an audition she nailed with a rendition of Alicia Keys' song "Fallin'." Clearly, it was no contest, because Guardiola got the call from Luhrmann a few days later.
Guardiola was very clear in clarifying that her acting is secondary to her music, telling Elle UK that she's a musician before she's an actress: "I have albums written and I just really want to express my music and be able to eventually tour and play for fans and people who really connect to it." Somehow, I doubt she'll have any trouble doing that after her incredible musical performances in The Get Down impress everyone.
Guardiola's Instagram account is filled with videos, dating back to 2013, of the singer-songwriter performing covers of songs by artists like Lana Del Rey and Hozier, accompanying herself by playing the piano or guitar. She shows off her serious skills, performing a diverse array of genres.
She's also performed original music live in more formal venues, like at the Full Circle Church in Venice, CA back in February 2015. According to older tweets, Guardiola appears to have spent some time in the studio as well, recording music, but it's unclear whether she's released a debut album yet. At least, I'm not able to find it online anywhere, though she does have one track called "Lonely" on Soundcloud under the performer name Herizen Fawn.
One thing is for sure: any album that Guardiola chooses to record now will surely sell out. She's clearly incredible talented. Until she records an album of her own, we'll at least be able to listen to her singing in character as Mylene on The Get Down's soundtrack.