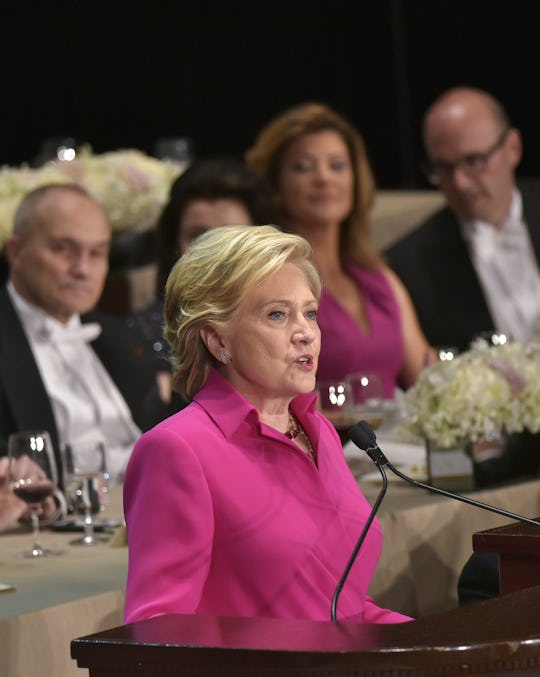 MANDEL NGAN/AFP/Getty Images
What Is Hillary Clinton's Stance On Late Term Abortion? She Doesn't Support A Complete Ban
One of the biggest — and certainly one of the most controversial — moments on the debate stage on Wednesday night took place when moderator and Fox News host Chris Wallace asked the candidates about their late-term abortion stances. Republican nominee Donald Trump took Democratic candidate Hillary Clinton's answer to mean she was OK with "ripping" babies out of mothers' wombs just hours before their due dates. While many were quick to question that depiction, many were still left wondering: what is Hillary Clinton's stance on late-term abortion?
As it turns out, Trump misconstrued Clinton's views on late-term abortions quite a bit. According to CBS, Clinton has said she's in favor of late-pregnancy abortion regulation, as long as there are "exceptions for the life and health of the mother." That's also the reason she's opposed Congress' recent attempts to pass a federal law banning all abortions past 20 weeks' gestation, with no exceptions to the rule. Clinton said at the final presidential debate:
I will defend Planned Parenthood. I will defend Roe v. Wade, and I will defend women's rights to make their own health care decisions. I have met with women who have, toward the end of their pregnancy, get worst news one can get. That their health is in jeopardy if they continue to carry to term. Or that something terrible has happened or just been discovered about the pregnancy. I do not think the United States government should be stepping in and making those most personal of decisions.
During a Democratic candidate forum in 2008, back when Clinton was running against President Obama, she also said, "I think abortion should remain legal, but it needs to be safe and rare. And I have spent many years now, as a private citizen, as first lady, and now as senator, trying to make it rare, trying to create the conditions where women had other choices."
She's since stepped away from that "rare" language, but, essentially, Clinton wants to uphold Roe vs. Wade, and she doesn't want to ban late-term abortions entirely, unlike her opponent. She would support some restrictions on abortions past 20 weeks of gestation, and according to Forbes, those restrictions already largely exist: only eight states across the country place no restrictions on abortion timing. Additionally, late-term abortions are incredibly expensive and are not quick procedures; they often require an overnight hospital or clinic stay and are very invasive.
But banning late-term abortions entirely — when those often take place due to fetal abnormalities discovered late or due to complications that place a mother's life at risk — doesn't sit right with the Democratic nominee. So when it comes to abortions taking place on the last day of a mother's pregnancy? That's not really what Clinton has in mind when she talks about defending Roe vs. Wade, not to mention, it just never happens.