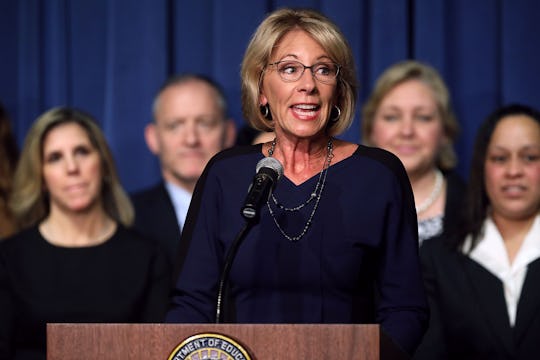 Chip Somodevilla/Getty Images News/Getty Images
House Bill 610 Is The First DeVos-Era Change
While the majority of President Trump's cabinet appointments have been controversial and subject to heavy criticism, one in particular has proven worrisome for parents. The appointment of Michigan philanthropist Betsy DeVos as Secretary of Education has worried many, especially those who send their kids to public school. DeVos' appointment is fairly recent, but a bill from a representative from Iowa may prove to be the first piece of legislation passed affecting U.S. schools under her watch. What is House Bill 610? It's the first post-DeVos repeal, and it will impact nutrition for school lunches.
The bill, introduced by Representative Steve King of Iowa, seeks to repeal a portion of the Elementary and Secondary Education Act of 1965 that pertains to nutritional standards in schools and would create a voucher program to distribute federal funds to expand "school choice" for students. If that term sounds familiar, it's because "school choice" has been Betsy DeVos' major talking point since day one. The bill would take federal funds allotted for education and create a voucher program so that parents could decide whether they wanted to send their child to private school or home school them, as opposed to letting them remain in the public school system.
The bill stipulates these vouchers would be for "eligible" children, which here just means a student aged 5 to 17. Voucher programs work kind of like scholarships, according to the National Conference of State Legislatures. Some states have had these programs for more than 100 years, particularly rural states where the distance between schools might be far. In these cases, a child may live closer to a private school than a public school, so the state will help their family pay for them to go to the private school.
Those in support of voucher programs, particularly for low-income students, point out that it can be an opportunity for kids to get a better education. If they can get financial help to attend a private school that may be better than the public school system available to them, the hope is that these kids would have better longterm outcomes in terms of career and earning potential.
Those who are against the programs point out that when public schools that are struggling lose students, they also lose funding, which makes it much more difficult for them to improve.
The bill proposed by King also tacks on another issue, in addition to school vouchers: it wants to cut a provision of the Richard B. Russell National School Lunch Act, which requires that school lunches meet certain nutritional standards, including a basic caloric requirement and a requirement to increase the availability of fruits and vegetables while reducing sodium and high trans-fat food options.
The bill was introduced in January and still needs to go through Congress before it could go into effect. DeVos hasn't said anything about the bill yet, but since it's very much in line with her self-proclaimed agenda of school choice, it's more than likely she'll be in support of it.