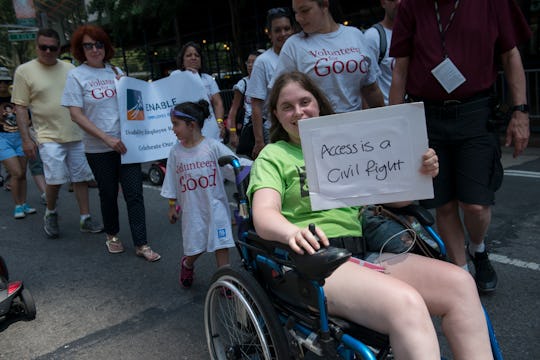 Stephanie Keith/Getty Images News/Getty Images
Here's What You Need To Know About HR 620, & Who It Could Hurt
On Sept. 7, the U.S. House Judiciary Committee voted to advance H.R. 620, a bill originally introduced by Texas Rep. Ted Poe in January. If you're wondering what H.R. 620 is, it's a bill that critics are saying puts the basic civil rights of Americans with disabilities under siege. If you or a loved one has a disability, or if you care about the well-being of Americans with disabilities, you might want to read about H.R. 620, aka the ADA Education and Reform Act of 2017.
In 1990, the Americans with Disabilities Act, aka the ADA, became a law. The ADA was a landmark victory for Americans with disabilities for many reasons, but especially because it gave people with disabilities more freedom, autonomy, and protections against discriminatory practices. One of the more notable portions of the law is Title III, which requires businesses to "remove architectural barriers and other obstacles that impede access to the establishment," according to the ACLU. In short, Title III makes it possible for countless Americans with disabilities to access places like grocery stores and public restrooms, to name a few.
It goes without saying that Title III is an incredibly important part of the ADA, especially for people with disabilities who don't have loved ones or who can't afford caregivers to help them manage their daily lives.
H.R. 620's goal is to allow businesses to opt out of Title III, according to the Disability Rights Education & Defense Fund. As with many hurtful bills, critics claim that the logistics of H.R. 620 are tricky and are designed to confuse voters. H.R. 620 essentially says that it's the responsibility of the people with disabilities to make sure businesses have the appropriate accommodations, which is ludicrous on many levels, especially when you consider the process to notify businesses of their missing accommodations would be tedious at best. In fact, H.R. 620 would give business owners "60 days to respond with a written plan for improvement, and an additional 120 days to correct the deficiency," according to Quartz, which is simply way too long for someone with a disability to wait for a problem to be fixed. The concept that American citizens have to basically plead and beg for basic civil rights is as mind-boggling as it is cruel.
The bill states, according to Congress.Gov:
The bill prohibits civil actions based on the failure to remove an architectural barrier to access into an existing public accommodation unless: (1) the aggrieved person has provided to the owners or operators a written notice specific enough to identify the barrier, and (2) the owners or operators fail to provide the person with a written description outlining improvements that will be made to improve the barrier or they fail to remove the barrier or make substantial progress after providing such a description. The aggrieved person's notice must specify: (1) the address of the property, (2) the specific ADA sections alleged to have been violated, (3) whether a request for assistance in removing an architectural barrier was made, and (4) whether the barrier was permanent or temporary.
If you're confused as to why H.R. 620 is even a thing, you can look to the first sentence of the quote above, in which it cites "civil actions." Following Title III's inception, there have been lawsuits regarding the failures of some businesses to comply with the stipulations of Title III. H.R. 620 implies that its intent is to save businesses from frivolous, unwarranted, and money hungry lawsuits, but this isn't true for a number of reasons.
First off, the ADA already provides businesses with "extensive, free educational resources" on how to comply with Title III, according to the Disability Rights Education & Defense Fund, and there are no reasonable excuses not to adhere to the law. Second, "an analysis of ADA lawsuits in 2016 identified just 12 individuals and one organization that have filed more than 100 lawsuits each," according to Rewire. Although abuse of Title III does occur, it isn't common. More often than not, lawsuits come about due to real and inexcusable failures of businesses to comply with the ADA. Lastly, the ADA already has "effective & extensive methods" available to "courts and state bar associations to deal with a very few frivolous lawsuits or unscrupulous attorneys," according to Disability Rights Education & Defense Fund.
Once you debunk all misconceptions surrounding the ADA and Title III, it's hard to see why H.R. 620 is necessary. If the goal isn't to protect businesses from fraudulent lawsuits, then one can only assume that its intent is to make it easier for businesses to deny countless Americans their civil rights. If H.R. 620 passes (it could go up for vote in the House of Representatives soon), it will make it that much harder for people with disabilities to live their lives, and justice for this community will be farther out of reach.
If you want to help to protect the Americans with Disabilities Act, you can "contact your member of congress through the Capitol Switchboard at (202) 224-3121. Message: Vote NO on HR 620, the "ADA Education and Reform Act," or you can "tweet your member of congress: #Disability rights = civil rights! Protect The #ADA, Vote NO on #HR620," according to Action Together Massachusetts.
Watch Romper's new video series,Romper's DoulaDiaries:
Check out the entire Romper's Doula Diaries series and other videos on Facebook and the Bustle app across Apple TV, Roku, and Amazon Fire TV.