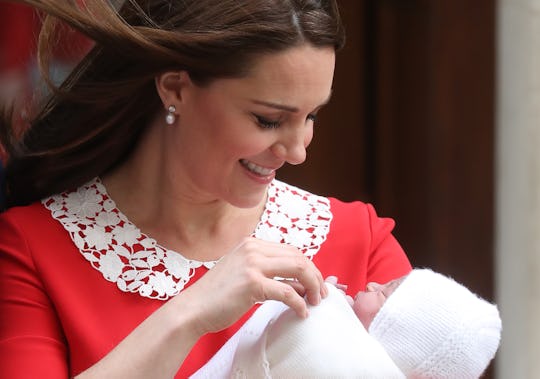 Chris Jackson/Getty Images Entertainment/Getty Images
What Is Hypnobirthing? Kate Middleton Reportedly Welcomed Baby No. 3 In A Truly Chill Way
The Duke and Duchess of Cambridge, Kate Middleton and Prince William, welcomed their third child on April 23, 2018, at 11:01 a.m. London time. Middleton gave birth to a son, fifth in line to the throne, born after just five hours of labor. And like every royal birth, fans are anxious to know all the details surrounding Kate, her new baby, and her childbirth experience. So, what is hypnobirthing? Kate Middleton reportedly decided to bring her youngest son into the world in the most zen way possible, and, apparently, she's not alone.
A hypnobirth, according to Women's Health, is an assisted birth utilizing the practice of tapping into the subconscious and relying on instincts to achieve relaxation that's "free of the resistance that fear creates." In other words, specially-trained practitioners teach a form of guided meditation to help promote a calmer, more serene — sometimes even pleasant — birthing experience. The "Mongan Method," widely used by celebrities, is inspired by the work of Dr. Grantly Dick-Read, an English obstetrician and author of Childbirth Without Fear. Marie Mongan M.Ed., M.Hy., hypnotherapist and Harvard University Ford Foundation fellow, developed the technique with both mom and baby in mind. Her philosophy is based on the belief that the bodies of mom and baby were meant to do the whole childbirth thing and can work together to create a harmonious experience.
According to Mongan, during a hypnobirth you're "awake throughout, you will be aware of your body's surges and your baby's progress; but because you will have trained yourself to reach complete relaxation, you will be able to determine the degree and the manner in which you will feel the surges." Practiced deep breathing, visualization, prompts from laboring partners, and labor comfort measures are all used in harmony to elicit a peaceful birthing experience.
Kristen Olberz, R.N., C.H., H.B.C.E., labor and delivery nurse at Portland Providence Medical Center and a certified HypnoBirthing educator, tells Fit Pregnancy that a hypnobirth "supports moms being OK with what's going on during labor" as they're "fully supported by staff and loved ones" and are "feeling safe and empowered." She goes on to add that some of the most important aspects of labor and delivery can't be "realized" if you're frightened or letting the pain control the way you labor.
In the event a mother goes into labor with the intent to hypnobirth, but circumstances — such as emergency medical intervention — change, the tools hypnobirth employs can still be used. You can still go through the breathing exercises, your birthing partner can still guide you through meditations, and you can still feel somewhat in control. Just having the tools can ease laboring fears, even if things don't go according to plan.
A large component of hypnobirthing relies heavily on the fact that the laboring mom remains calm during times of high-intensity stress in order to help the uterine muscles relax. This prompts the release of oxytocin and endorphins, which ease laboring pains, shorten the first stage of labor, and lessen post-birth fear and/or anxiety. The practice doesn't necessarily eliminate the need for alternative pain relief, but merely facilitates a calmer atmosphere for bringing a baby into the world.
Medical Daily describes the practice similar to "daydreaming or intense focus." While this method may not appeal to everyone, and it doesn't promise the complete elimination of pain, it does promote a fear-free process that can allow your muscles to do their job "as nature intended." Stress hormones, they say, are what constrict muscles and the body in general, causing added pain and making labor more difficult than it needs to be.
Still not sure if hypnobirthing is for you? Dr. Lorne R. Campbell, Sr., Clinical Assistant Professor of Family Medicine at University of Rochester, penned the foreword to Mongan's book, HypnoBirthing: The Mongan Method: A natural approach to a safe, easier, more comfortable birthing, which spoke to the importance of hypnobirthing and included the following: "I now truly believe that normal birthing does not have to involve pain." No matter what your birth plan includes, all women deserve a more peaceful birthing experience.
Check out Romper's new video series, Bearing The Motherload, where disagreeing parents from different sides of an issue sit down with a mediator and talk about how to support (and not judge) each other's parenting perspectives. New episodes air Mondays on Facebook.