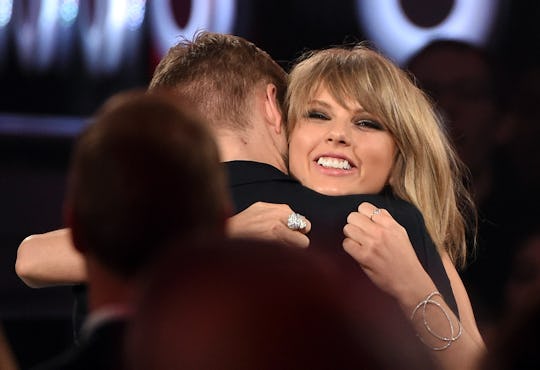 Ethan Miller/Getty Images Entertainment/Getty Images
What Is "I Did Something Bad" About? It's Taylor Swift's Most IDGAF Song Yet
Let's be real, Taylor Swift fans: what's the point of listening to her music unless you're wearing your detective hat and ready to uncover every subtle-yet-obvious subtweet embedded in her lyrics, right? I mean, that's half the fun of listening to T-Swift's music. So, what is "I Did Something Bad" about? The third track on Swift's highly-anticipated album Reputation is arguably her most IDGAF song to date, and fans have more than a few worthwhile speculations as to who is in Swift's crosshairs these days (and, perhaps, for the foreseeable future because old feuds die hard). Hold onto your conspiracy theories, people. We're in for a wild ride.
The first, and perhaps most obvious, fan-theory involves Taylor's ill-fated romantic relationship with Calvin Harris. The opening lyrics hint to Harris' infamous social media presence; a never-ending stream of posts that, well, highlight the dude's face and little else. The song begins with Taylor singing, "I never trust a narcissist/But they love me." Caught, Calvin. Caught and called out. The song goes on to accuse "He Who Shall Not Be Named" of "making it all about me," as in T-Swift, darlings. The lyrics, "Now he thinks it's all about me" could, according to ELLE, be a hint at Harris' "attack" on Swift in the wake of their break-up, in which the artist released two songs and a music video of what can only be described, lovingly, as "Taylor Swift references."
Harris isn't the only ex-lover Swift could be referencing, though. People reminds Reputation-listeners that the song "Did Something Bad" could very well be about her short-lived relationship with actor Tom Hiddleston, and the negative press she received after being accused of being a "man eater" for jumping from Harris to Hiddleston so "quickly," whatever that means.
The lyrics, "He says don't throw away a good thing/But if he drops my name then I owe him nothin'/And if he spends my change then he had it comin'," could, very well, be an ode to how public Hiddleston and Swift's relationship was, according to People. I mean, could you really talk about anything else for the three months they were together?
Of course, we would all be remiss if we forgot the on-going feud between Taylor Swift, Kanye West, and Kim Kardashian-West. Lyrics like, "They're burning all the witches, even if you aren't one/They got their pitchforks and proof/Their receipts and reasons," could very well be a reference to Kim Kardashian-West's snapchat post, in which she claimed she had "receipts" proving that Swift and West, Kim's husband, had a lengthy discussion regarding his now-infamous lyrics about Swift on his song "Famous," in which he raps, "I feel like Taylor Swift still owe me sex/Why? I made that b*tch famous." In the "receipts" videos, Swift and Kanye are heard discussing the song, and Kanye appears to be asking if Swift is, in fact, OK with the derogatory reference. Swift is heard saying, "Go with whatever version of the line you want; it's obviously very tongue-in-cheek either way."
According to Cosmopolitan, Taylor's team released a statement, immediately denying the claim that Kanye had run the finalized lyrics past Taylor. "Kanye did not call for approval, but to ask Taylor to release his single 'Famous' on her Twitter account. She declined and cautioned him about releasing a song with such a strong misogynistic message. Taylor was never made aware of the actual lyric, 'I made that b*tch famous.'" But now that "Did Something Bad" has been released into the world, it would appear as if it really, and truly, doesn't matter. If they're going to burn all the witches regardless, Taylor is ready for someone to light her up.
Which is, perhaps. the best part of the song itself: you don't know if it's about Harris, Hiddleston, or Kanye. In fact, it could be about all three, and if it is then the beauty behind the anger of the song — and Taylor Swift's unapologetic decision to burn the world down — is a thing to behold. The three aforementioned men have been a constant talking about when people discuss Swift. Now, finally, she's taking the microphone back.
Check out Romper's new video series, Romper's Doula Diaries:
Watch full episodes of Romper's Doula Diaries on Facebook Watch.