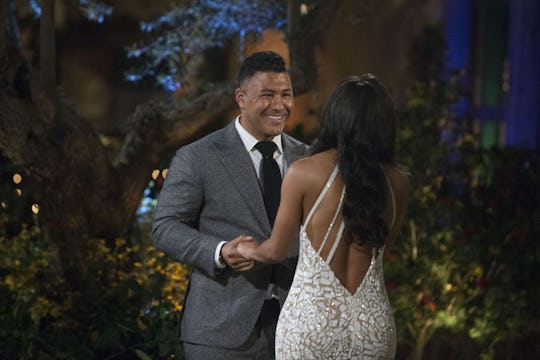 Paul Hebert/ABC
Iggy From 'The Bachelorette' Has Already Accomplished A Lot
Just because you go on a reality show and sometimes end up stirring up trouble, it doesn't necessarily mean you're a bad guy or can't be taken seriously. At least, that's the hope for Iggy this season, because at first glance he totally doesn't seem like the pot-stirrer type and when he's not competing for roses or letting Rachel know what's what, he's an important guy. So, what was Iggy's job prior to The Bachelorette?
The contestant is not only a successful businessman, but he's a CEO and seems to be very serious about his career. Iggy's the CEO of VOR Consulting, LLC., which according to his LinkedIn profile, is "a Chicago based sales consultancy that specializes in creating sales processes/infrastructure that allows businesses to close more leads, reduce attrition, and create a scalable sales architecture based on proven methods of success."
Basically, he's in charge of a consulting firm that works with different businesses and companies in an effort to make them the most profitable and help them bring out their strengths on the business side of things. So far this season on The Bachelorette, he hasn't gotten into his personal life too much, but the fact that Iggy's job is one that's not only respectable but holds him in a high place of power, means that he could be a good match for Rachel when it comes to their careers.
According to the website for VOR Consulting, LLC., Iggy's also the founder of the company, but his position as founder and CEO wasn't achieved without hard work. Before founding the company, Iggy worked in the marketing and sponsorship departments for the L.A. Dodgers, where he worked on various big marketing campaigns. After that, he migrated to Detroit, where he moved into a similar position for the Detroit Pistons.
According to the website, thanks to all of the connections he's gained from working in marketing and promotions over the years, Iggy now has a network that "reaches Fortune 500s, hospitality groups nationwide, sports/entertainment entities and venture funds across the country." Not too shabby.
Rachel has said on more than one occasion that intelligence and drive in men are the things that she finds sexy, and at 30, Iggy seems to possess both of those important qualities and then some. Obviously it's too soon to tell how long Iggy's going to last on The Bachelorette or if he and Rachel will actually have chemistry, but he definitely has his life together. And when you have the quirky contestants making the rounds each season, that's a triumph in itself.