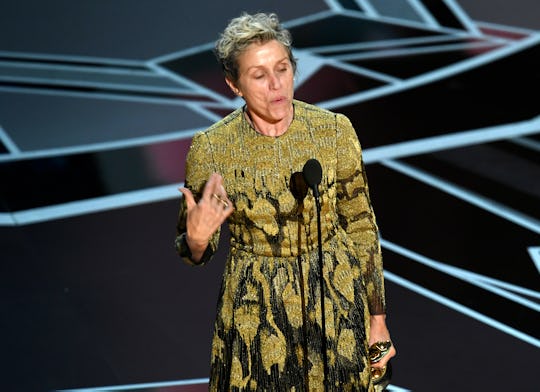 Kevin Winter/Getty Images Entertainment/Getty Images
Here's What Those 'Two Words' Frances McDormand Said At The End Of Her Speech Mean
I think Jimmy Kimmel said it best when he said, "I really hope Frances McDormand gets an Emmy for her speech at the Oscars because that was incredible." McDormand won the Oscar for Best Actress, as everyone predicted she would, but ended her acceptance speech with a heartwarming message of inclusion. And one that left everyone wondering: "What is an 'inclusion rider?'" Frances McDormand's Oscar speech ended with these two words.
In her typical fashion, McDormand made her way on stage looking a little unsteady and like an absolute queen, and began her acceptance speech by saying, "If I fall over pick me up because I've got some things to say." She then proceeded to thank all of the people who were a part of her journey to the stage (as well as saying she felt like Chloe Kim). But things got interesting when she put her Oscar down on the floor for a minute for what appeared to be a serious talk. She had all the women who were nominated in any category stand up for a moment and acknowledge one another. Then she asked all the women nominated in the various categories to stand. And then she said she was going to end her speech with two words: "Inclusion. Rider." Everyone clapped hysterically, but for those of us who don't work in Hollywood and are not in with the lingo, we were confused.
If you're having trouble finding anything on Google, you're not the only one. Nothing immediately comes up when the phrase is entered into a Google search. Luckily, the good people of Twitter came through with an explanation. And now I'm sure everyone will know all the ins and outs of these phrases by tomorrow morning. Basically, from what I understand via Twitter, an inclusion rider is something that A-list stars can put in their contracts demanding that a certain percentage of marginalized people be added to the film. In a tweet, Whitney Cummings had a great explanation.
She said:
an inclusion rider is something actors put into their contracts to ensure gender and racial equality in hiring on movie sets. We should support this for a billion reasons, but if you can't find a reason to, here's one: it will make movies better.
Other people with industry knowledge tweeted their own explanations, which all said more or less the same thing.
This solution sounds pretty fantastic for a lot of reasons, but one of the reasons that I like it is that it is soundly proactive. It is a solid thing that people in positions of power — like all of those dashing, white leading men — can do to be true allies for women, people of color, LGBTQ communities, and more. If more people with that kind of power insisted on diversity prior to accepting a project, it would be a huge incentive for the people in charge of movies to actually make a difference in terms of inclusion and equal representation.
I don't know about you, but I'm used to hearing the word "rider" in a celebrity context talking about whatever outrageous demands a celebrity makes when going on tour. For example, the often unbelievable stories about pop stars insisting on having precisely 18 bottles of slightly below room temperature water and only green M&Ms in their dressing room. I don't know how accurate all of these demands are, but I think that if a small contract negotiation can empower movie makes to hire more marginalized people, then the A-listers of Hollywood should put their money where their mouth is.
A lot of people found Three Billboards Outside Ebbing Missouri to be a problematic movie for many reasons. But whatever its flaws, I'm going to say it right now, Frances McDormand is a national treasure, a brilliant actress, and I think she's on to something.
Check out Romper's new video series, Romper's Doula Diaries:
Watch full episodes of Romper's Doula Diaries on Facebook Watch.