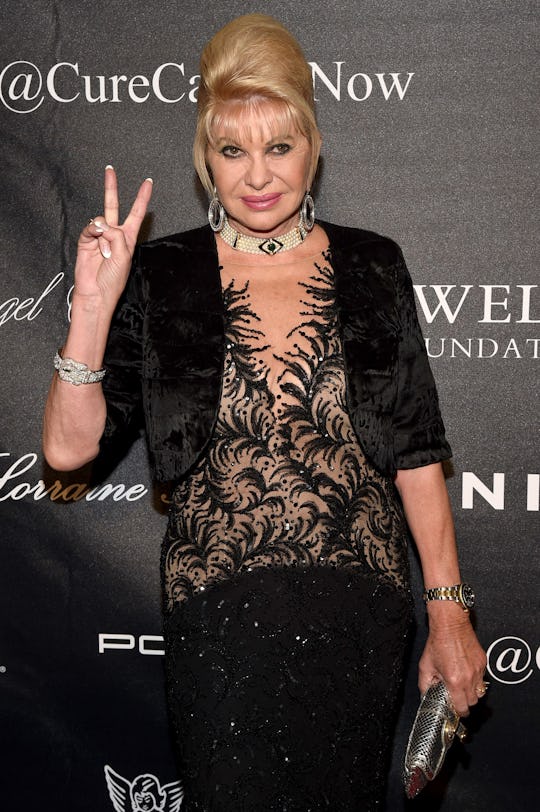 Bryan Bedder/Getty Images Entertainment/Getty Images
What Is Ivana Trump's Net Worth? It's A Good Guess She's Doing Well
As the presidential election enters its home stretch, voters across the country are likely preparing for election day. It's been a long election cycle with too many twists, turns, and contentious moments to count. And Wednesday night's third and final presidential debate will certainly serve as a true mark that the election is almost over. Republican Party presidential nominee Donald Trump and Democratic Party presidential nominee Hillary Clinton will have one last chance to face-off on the debate stage. (Here's to hoping their stances on policies are the focus, and not a bickering match between the two nominees.) But in the meantime – since both Trump's and Clinton's financial standings and net worths have made their way (and been politicized) into the conversation – what about their families'? Ivana Trump is Trump's first wife, now ex-wife, and mother to his oldest children, Ivanka Trump, Eric Trump, and Donald Trump Jr. So what is Ivana's net worth? It's probably safe to say she's financially doing well.
Ivana grew up in what was then-Czechoslovakia and was a competitive skier. After she married Trump, she served as the vice president of interior design of the Trump Organization, the New York Post reported. She also later reportedly became the president of the Trump's Castle casino resort, and then the Plaza hotel.
It's unclear what Ivana's exact net worth is, but a few factors could help paint the picture. With the couple's divorce settlement in 1991, Ivana left with $14 million from the settlement, a 1991 New York Times article revealed. But that's not all. According to the report, Ivana also walked away with a 45-room mansion in Connecticut, and an apartment in the Trump Plaza, as well as use of the Mar-a-Lago mansion in Florida for one month a year, the Times reported.
Ivana has also apparently had a number of personal projects since her highly-publicized divorce. She had her own reality TV special on the Oxygen network called Ivana Young Man, in which she helped middle-aged women find love with younger men.
And as for Trump's presidential bid, Ivana has expressed support for her ex-husband. In an interview with the New York Post, Ivana explained that she'll sometimes advise Trump, and that he's "blunt" and "no politician."
"He's no politician," she said. "He's a businessman. He knows how to talk. He can give an hour speech without notes . . . He's blunt."
"Blunt" is certainly one way to phrase his widely-perceived discriminatory and hurtful rhetoric.