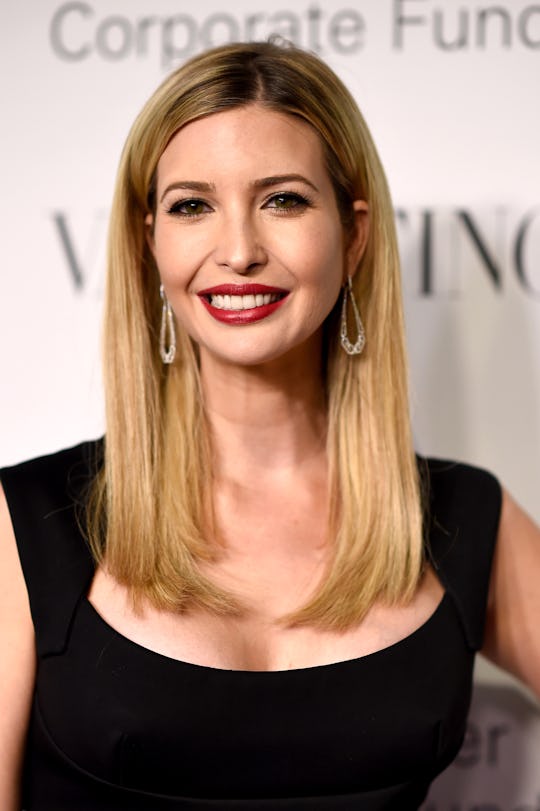 Dimitrios Kambouris/Getty Images Entertainment/Getty Images
What Is Ivanka Trump's Net Worth? She's A Busy Woman
Donald Trump isn't exactly the poster boy for feminism (like, at all), which is why it's pretty ironic that he somehow managed to raise one. It would be easy to write the Trump children off as mere beneficiaries of their father's real estate empire, but Ivanka Trump's net worth is estimated to be around $150 million and she runs all of her own businesses. Yea, businesses plural. In addition to being the mother of three children, Ivanka is the CEO of a clothing and accessory line that is sold mainly through Nordstrom's. She's also part of the team of #WomenWhoWork, a blog and lifestyle website geared toward modern, professional women, in addition to being the executive vice president at the Trump Foundation.
Of course, until her father's comments about Mexican immigrants and NBC this past fall, she was also the host of Celebrity Apprentice (Tyra Banks is rumored to be replacing her).
Ivanka does it all and she takes her work very seriously. She's not just slapping her name onto perfume bottles and reasonably priced heels; she's involved in all of the day to day business of her clothing line and is a driving creative force within the brand, according to Vogue.
You might best remember Ivanka as a model and socialite from the early aughts, but she gave up that glam life to go to Wharton Business School at the University of Pennsylvania. Say what you want about capitalizing on a famous (and wealthy) last name, but remember that Ivanka has created her very own, personal empire since attending university. Because she actually loves doing business. She told Vogue that her husband, Jordan Kushner, and her will go look at real estate development sites, like, as a date. To get her opinion on things.
Her own father still seems allegedly surprised that she gave up the model life. But "in the end, she chose the family business. Ivanka is a natural dealmaker. She'll take this company to great levels," he said. He might say nasty things about women's weight and appearances, but he's handing Ivanka the reins to the family business. That means she must be good.
Ivanka's own businesses are geared towards empowering women in the workplace. If ever there was a good example of not judging a book by its cover — it's Ivanka Trump. She's not her father, though she has supported him throughout his campaign. She hasn't totally thrown herself into the political ring and seems pretty much disinterested in politics, which is a good and a bad thing.
While offering lifestyle advice for #WomenWhoWork and running a fashionable, practical clothes line for professional women, she hasn't exactly taken a strong stance on actual feminist policy. It could theoretically be some sort of silver lining (if we have to find one) to a Trump presidency to know that his daughter, whom he obviously respects would have her father's ear when it came to say, passing equal pay bills and standing up for women's health issues. But she's keeping a safe distance from the candidate, even though some think that Trump should (and could) pick her as a running mate. That would be a pretty powerful ticket.
It doesn't seem like that would even be something the Trump heir would be into doing — she has a lot more going for her than a life in public office. And, despite a name and a trust fund, she's created a separate, successful career all by herself. Who knew? There's actually something good about Donald Trump — he somehow raised a badass that most women can look up to.