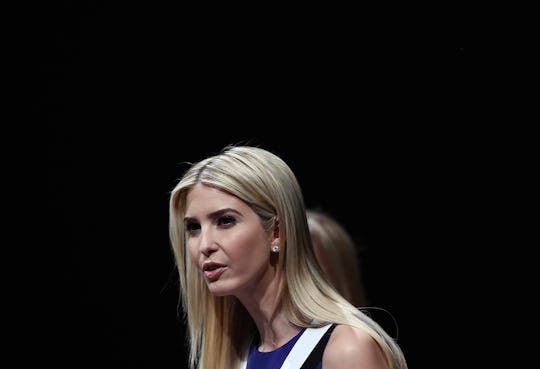 Win McNamee/Getty Images News/Getty Images
Ivanka Trump Has A Brand New White House Title
Blurred lines have never been a good thing — not as a song title, music video, or in government. And yet, here we are. President Donald Trump's daughter has an official White House position now, despite the fact that she had declined to take up a role in her father's administration before. So, what is Ivanka Trump's title?
According to The New York Times, Ivanka will be taking an unpaid role as an adviser to her father, alongside her husband, Jared Kushner. Previously, Ivanka was reported to be taking a more informal role in the administration, however, news of that possibility drew stark criticism from those who said being a volunteer would mean she was exempt from the normal rules and regulations that other federal employees have to follow.
Now, though, Ivanka is changing things up. She recognizes that her new role is groundbreaking, and that suspicions are rightfully on the rise as she takes her new post. "Throughout this process I have been working closely and in good faith with the White House Counsel and my personal counsel to address the unprecedented nature of my role," she said in a statement released Wednesday. Still, the role of adviser has many facets, and it's unclear as to what exactly Ivanka will be doing in the White House.
As Ivanka's presence on Trump's campaign trail was a large factor in his success, and her speech at the Republican National Convention marked a turning point in the election, her new role isn't surprising. Nevertheless, she still recognizes the importance of transparency in such a high-leveled position, addressing the issue in her statement as well:
I have heard the concerns some have with my advising the president in my personal capacity while voluntarily complying with all ethics rules, and I will instead serve as an unpaid employee in the White House office, subject to all of the same rules as other federal employee.
Likely, Ivanka will be a sounding board for Trump's policies, especially those regarding women and mothers. According to The Washington Post, the White House also sounded off on her new position with a statement praising Ivanka's "unprecedented" move as a first daughter:
Ivanka's service as an unpaid employee furthers our commitment to ethics, transparency, and compliance and affords her increased opportunities to lead initiatives driving real policy benefits for the American public that would not have been available to her previously.
Whatever Ivanka's job description may entail, it's clear that this move is strategic, and will likely lead to further issues, of some sort.