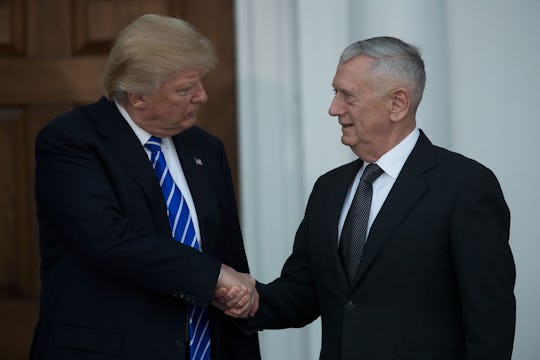 Drew Angerer/Getty Images News/Getty Images
What Is James Mattis' Military History? He's Reportedly Been Picked As Defense Secretary
Another Cabinet appointment in Donald Trump's White House has reportedly been filled. The Washington Post reports that the president-elect has chosen retired Marine Gen. James N. Mattis to be the next secretary of defense in his incoming administration, but this possible selection could get a little tricky as a federal law states that defense secretaries must not have been on active military duty in the past seven years. So, what is Mattis' military history exactly?
The 66-year-old former senior military officer served more than four decades in the Marine Corps, retiring as the chief of U.S. Central Command in spring of 2013. That means it's only been four years since Mattis — who has led operations in the Middle East — was last active in the military, which may lead to Congress passing new legislation that would make an exception for him to serve as secretary of defense.
The Washington Post pointed out that this type of an exception is not unprecedented, although Congress has only granted it just once before under Harry Truman's Democratic presidency. In 1950 within the early months of the Korean War, a congressional waiver was required and granted for Gen. George C. Marshall to take the job.
While Trump's latest appointment is not yet confirmed — an official announcement is reportedly coming some time next week — it's possible that Mattis will able to take the take the job as he's been considered one of the most influential military leaders of his generation.
Trump also thinks highly of him, tweeting that Mattis is "a great man, saying that he's "very impressive" and "a true general's general!"
The retired four-star general, also known as "Mad Dog," has been awarded for his military leadership in the Marines, particularly during the Iraq War and the Battle of Fallujah in 2004 — a war that has been largely considered one of the bloodiest clashes in modern history.
According to NBC News, Mattis also led a task force in southern Afghanistan in 2001 and a Marine division during the Iraq invasion, earning him a promotion in 2010 that put him in charge of all American forces stationed in the Middle East.
(Of course, a Trump selection would not be complete without a little controversy, which Mattis attracted a good deal of back in 2005 when he said "it's fun to shoot some people," while addressing other service members in San Diego, according to CNN. At the time, Mattis' office refused to comment on the controversy, but then-Marine commandant Gen. Michael Hagee defended Mattis, saying in a statement, "While I understand that some people may take issue with the comments made by him, I also know he intended to reflect the unfortunate and harsh realities of war. Lt. Gen. Mattis often speaks with a great deal of candor, [though I] agree he should have chosen his words more carefully.")
Although many media outlets have credited this appointment to several inside sources, Trump's transition spokesman Jason Miller tweeted that no decision had been made. He tweeted, "No decision has been made yet with regard to Secretary of Defense. #TrumpTransition."
It's not confirmed yet if Trump's appointment for secretary of defense is true and it's also unclear at the moment if Congress will allow it, so the nation will likely have to wait a few days to know more.