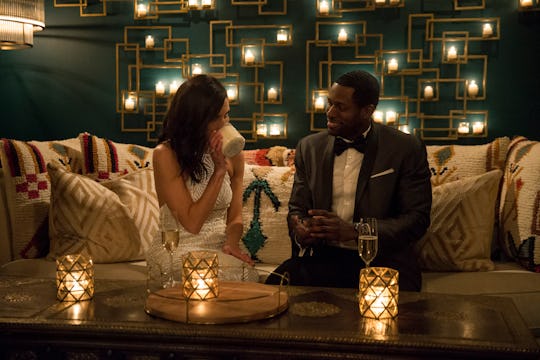 Paul Hebert/ABC
Jean Blanc From 'The Bachelorette' Is More Than A Colognoisseur
The Bachelorette is no stranger to odd jobs; in fact, half the fun of meeting all of the new suitors is finding out who's trying to sell some ridiculous faux-career as the real thing. Jean Blanc from Becca's season has invented a whole new word for himself, however. He has been dubbed a "colognoisseur," but what is Jean Blanc's real job?
Jean offers a collection of possible careers in the bio section of his Instagram account, listing six in total. According to him, he's a humanitarian, economist, horologist (one who studies the measurement of time, i.e. clocks), engineer, entrepreneur, and, obviously, colognoisseur. But which of those actually pays the bills? Of course, once Jean locks down the branding trademark for "colognoisseur," it could probably augment his income quite nicely.
Jean's official ABC bio states that he received his masters degree in business administration. Though he grew up in Boston, he moved to Memphis to work as an engineer before changing careers. He relocated to Pensacola, Florida and took on a job in finance instead. It turns out Jean has a very real job after all, though one wonders why anyone thought bragging about having a cologne stockpile was more impressive than working in finance.
Host Chris Harrison attempted to explain the cologne obsession in more detail during the Facebook Live in which he announced the new contestants. "He is a colognoisseur, which means he loves cologne," Harrison said. "I don't know if any woman loves to hear that. I don't know... I guess I'll leave that up to Becca to decide, but he has like 250 bottles of cologne."
That is, undeniably, a lot of cologne. But when Jean isn't adding new bottles to a collection that must take up his entire bathroom and possibly the apartment beyond, he has plenty to brag about. On his personal website, he describes his career journey: he attended Northeastern University and earned a Bachelor of Science in engineering while simultaneously launching a company called Best Home Improvement with his father. In his words, it's "a construction company specializing in renovating commercial and residential properties," and Jean boasts it has been doing well for fifteen years.
Jean was a senior electrical engineer in R&D and standards development before deciding to pursue his interest in economics. After obtaining his masters in business administration, he began to work towards getting his MBA from Duke University's Fuqua School of Business, which is something he's still in the middle of. Currently, he works in "a leadership role in global sourcing and procurement." That might not be snappy enough to fit under his name on The Bachelorette, but it makes more of an impact that confusing people with a made-up term.
Earn The Necklace reported that Jean is a purchasing manager for International Paper, though he doesn't state the specific company he works for on his website. The site also explained that Jean has built houses with Habitat for Humanity and volunteered as a youth mentor with REACH Memphis. That explains where the "humanitarian" in his Instagram bio came from, and accounts for nearly all his ventures. The interest in clocks and time has not yet seen an explanation, however.
It seems as though Jean is genuinely a jack of all trades, but he buried the lede by promoting colognoisseur above his other enterprises. It may grab him some more air time in the earlier episodes, but Becca is likely to be a lot more intrigued by his real job than the joke one. Unless, of course, she's got an interest in perfumes herself. Who knows? Perhaps it could be a point of bonding between them after all.