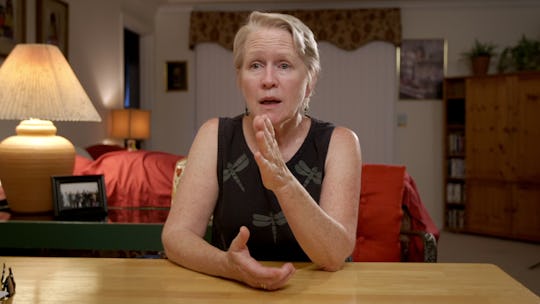 Netflix
Jean Hargadon Wehner Speaks Out About Her Past On 'The Keepers'
Netflix's The Keepers follows the investigation into the 1969 death of Sister Catherine Cesnik, a Baltimore nun and former Archbishop Keough High School teacher, by a group of investigators including her former students. Her murder remains, to this day, unsolved, but members of her community believe she was killed in order to cover up Keough's allegedly rampant clergy sex abuse, which was brought to light in the '90s. One abuse victim previously known as "Jane Doe" is at the center of it all. "Doe" has since come forward publicly, leading many to wonder: What is Jean Hargadon Wehner doing now?
During a People interview with The Keepers director Ryan White, the man behind everyone's probable new true crime obsession emphasized Wehner's importance in bringing this story to light, even calling her the "lynchpin" and describing her as "a really brave woman who's been trying to tell this story for decades and has been silenced." But not anymore.
"I just knew with Jean, we were doing something so painful, so traumatic. [...] I felt a huge responsibility, a bigger responsibility than I ever have," White told People. "This is not just a trauma victim. This is a person whose story has been deliberately buried, and she's had to live with that her entire life."
Wehner first came forward with her story of alleged abuse in the '90s, at which point she (among several other victims of Father Joseph Maskell, the chaplain of Keough and a guidance counselor there) had begun recovering her repressed memories of the abuse. Remembering the abuse was triggered by seeing photos of Maskell and Keough's Director of Religious Services Father Neil Magnus (a fellow accused priest) in her high school yearbook in 1992: "My whole body shook," Wehner told The Huffington Post of recalling her abuse. "I knew."
After that, Wehner and another victim, Teresa Lancaster, brought a civil lawsuit against Maskell and associated parties, alleging years of sex abuse. At the same time, she told the authorities her story of allegedly being taken to see Cesnik's decomposing body by Maskell, weeks before the nun's body would be found, implicitly threatening her with the same fate should she come forward and talk about the abuse — and it was enough for them to reopen the never-solved investigation into Cesnik's murder. (Maskell denied initial accusations until his death in 2001 and was never accused by law enforcement of the crime.)
Unfortunately, neither Wehner's allegations of abuse or her story about Cesnik got very far at the time — the suit was dismissed by 1996 and Cesnik's case was reshelved by 1995, after leads dried up and Maskell fled the country.
Nowadays, Wehner is a 63-year-old certified Spiritual Director/Life Coach and Reflexologist in the Baltimore area, according to Inside Baltimore. She revealed her identity to the public at large in 2015, when she was interviewed for HuffPost's feature on Cesnik's murder."I help people come to know themselves by planting both feet in their heartfelt desires while letting go of old experiences and beliefs," Wehner writes on her website's homepage, adding:
I believe that each of us deserves to live our lives to the fullest. I know each of us can move beyond our obstacles into a life fuller then we ever imagined!I say this with confidence after surviving the loss of our first child, the death of my husband, clergy abuse, and child sexual abuse.
For Wehner, receiving a $50,000 settlement from the Archdiocese of Baltimore years after initially coming forward about her abuse marked a new beginning. "[The church's] refusal to acknowledge — or act on — the information I gave them was very painful at the time [the mid-1990s] and traumatized me all over again," she told Inside Baltimore. "[F]or me, this [financial] settlement with the Archdiocese of Baltimore opens a new chapter in the history of what happened to Sister Cathy when she tried to defend several of us Keough students from the rampant sexual abuse that was taking place at the high school."
In her statement, read and filed during the settlement mediation and shared with Inside Baltimore during the same interview cited above, Wehner also requested that the church take out ads on Maryland and national newspapers acknowledging the abuse, calling that "one way that true reconciliation can happen." Speaking out via The Keepers, it seems, is one step towards that reconciliation — a very public, global reckoning of the alleged sexual abuse.