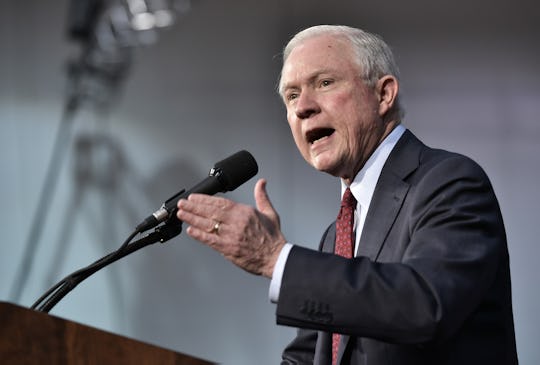 MANDEL NGAN/AFP/Getty Images
What Is Jeff Sessions' Stance On Women's Health? His Record Is Concerning
As President-elect Donald Trump continues to fill the roles of his Cabinet, many of his appointments have come with concerning stances on important issues. So, last month, when Trump tapped in Alabama Senator Jeff Sessions to be the next U.S. attorney general — saying that he was a "world-class legal mind and considered a truly great Attorney General" — many of his former stances on top issues understandably brought in cause for concern, including his dubious record on women's health issues. This appointment has perhaps led many to ask the question: What is Jeff Sessions' stance on women's health?
Now that the 69-year-old veteran senator — who is also widely considered one of the most conservative Republicans in the senate — will essentially be the nation's top law enforcement official, his controversial history is quite alarming for the decades of progress made for women's health rights.
For example, Sessions has consistently and vehemently opposed abortion throughout his legal career as well as President Barack Obama's health reform legislation — the Affordable Care Act, or also known as Obamacare — which guarantees women free birth control and preventive care. And if some of the key positions he has taken in recent years follow him into Trump's administration, then all of the work done to secure these rights women's health may be reversed.
Some examples of Sessions' anti-choice record includes a vote in 1999 to overturn Roe v. Wade — the 1973 landmark Supreme Court case that legalized abortion — vote in 2003 to ban partial birth abortions, except for cases in which a woman's life is in danger, as well as a vote in 2011 to prohibit federal funding for abortions.
This voting record has drawn in heavy criticism from pro-choice activists, including the president of NARAL Pro-Choice America Ilyse Hogu, who said in a statement that Sessions is "unfit to be the country's top lawyer." In the statement published shortly after his nomination on Nov. 18, she said:
The last person women and families need in this job is someone who has repeatedly given a pass to individuals who commit acts of violence against abortion clinics, doesn't take sexual assault seriously, and was determined to be too racist by a GOP-led Senate to become a federal judge. But that's who Jeff Sessions is. His record of misogyny and racism makes him unfit to be the country's top lawyer. The American people deserve far better, but with Donald Trump at the helm, we know we won't get it.
The attorney general is crucial in protecting every American's civil liberties, including women's health, so when citizens look at Sessions' past positions on these important issues, it's only logical that many are concerned that decades of progress might disappear under the new administration.