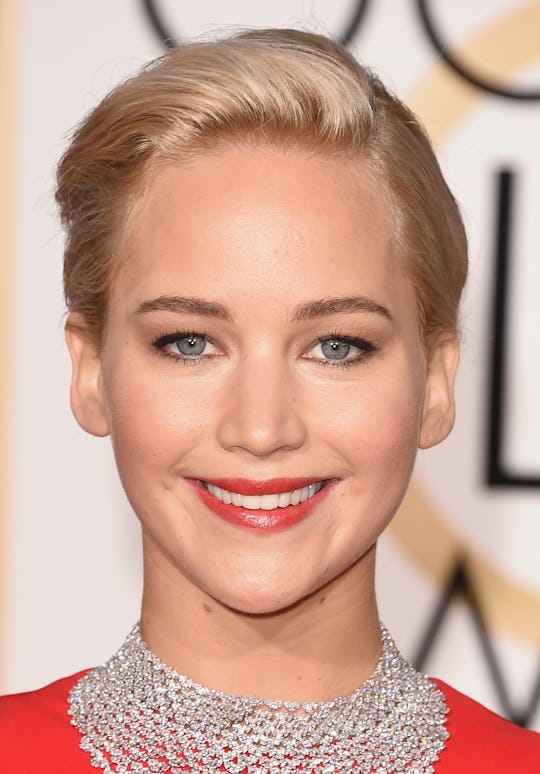 What Is Jennifer Lawrence Wearing At The Golden Globes This Year? Her Dior Gown Was Simple, But Elegant
Jennifer Lawrence is stunning, whether she wants to admit it or not. Although the Golden Globe nominated actress, who won the award for best actress in a comedy for her role in Joy on Sunday night, has previously stated that she was a bit of a tomboy growing up, her recent turns on the red carpet have proven that she's 100 percent invested in getting to know high fashion better. At Lawrence's last Globes appearance in 2014, the 25-year-old donned a puffy, strapless, white Dior gown (which unfortunately spawned an series of hilarious lookalikes on social media). Given that Lawrence missed last year's award show for filming reasons, fashionistas everywhere were asking themselves the same question on Sunday night: What is Jennifer Lawrence wearing at the Golden Globes this year?
Unsurprisingly, the actress didn't disappoint. Dressed in a red Dior gown (because who else would she be wearing?) with side cut-outs, JLaw chatted cheerily with pal Katy Perry and host Ryan Seacrest about Bump-Its of all things.
Though the dress is a definite departure from her 2014 Dior number, people will undoubtedly be talking about it. 2016 was slated as Lawrence's fashion redemption year — and while her pick wasn't grand or over-the-top, she definitely proved herself to be sartorially gifted.
Let's pause for a moment to remember the public's reception to Lawrence's 2014 gown, which wasn't nearly as kind. While a few people came to her defense, the larger portion of the population seemed to have one general reaction: burn it, and burn it now.
"I think we can all agree," lamented one angry Twitter user that night. "Jennifer Lawrence's dress was a train wreck... her stylist should be burned at the stake." Ouch.
Alright, so the dress was a bit unique — it seemed as if Lawrence liked it though, and that's what really matters, right? Right. In her defense, celeb stylist Rachel Zoe did name Lawrence the "best dressed" of the 2014 Golden Globes bunch too. "I recorded the show so I haven't seen everybody," Zoe quipped the to E!'s Marc Malkin after the event. "[... But the best dressed celebrity of the evening was] Jennifer Lawrence, obviously." (To be fair, Zoe is Lawrence's stylist, so it makes sense that she'd declare the actress the evening's big winner.)
Whatever the case, it was good to see Lawrence finally get the fashion redemption she deserved on Sunday night — because if nothing else it allowed everyone to focus on what was really important: Her incredible acting in Joy. Get it, girl!
Images: Jason Merritt/Getty Images (3)