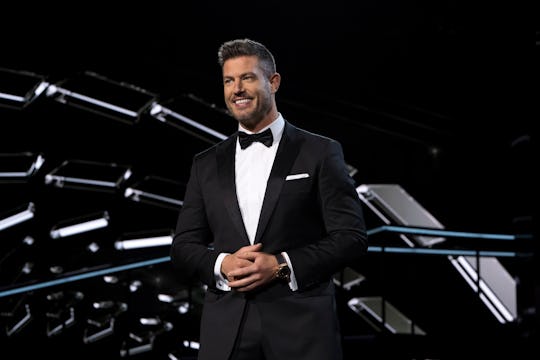 Byron Cohen/ABC
'The Proposal' Host Jesse Palmer Has A Pretty Decent Net Worth
This summer, former NFL football play and Bachelor, Jesse Palmer, is returning to primetime television as the host of a new speed dating show called The Proposal. Although most people know him as the Season 5 Bachelor, he's had a pretty successful career as a television host since his time in the mansion. So what's Jesse Palmer's net worth now that he's coming back to Bachelor Nation?
Palmer played professional football for the New York Giants and the San Francisco 49ers as a quarterback, so you know he must have made a ton of cash. Then, he left the game to be on The Bachelor in 2004, and afterwards played in some Canadian leagues.
Since then, he's been a host on ESPN and a special contributor to Good Morning, America, among other shows, such as The Daily Mail TV. And now he's hosting The Proposal on ABC this summer, which means only more good things should be coming his way. Like, money.
According to Celebrity Net Worth, the 39-year-old Canadian is worth about $6 million, which makes sense if he saved any money from his NFL career and multiple TV contracts. So all in all, that's a pretty decent career. Being The Bachelor was just a pit stop on the way for a lucrative television career for Palmer.
Believe it or not, he had no idea what he was getting into all the way back in 2004 when he signed onto the show. He told Parade:
I had never actually seen it. I guess I was naive in the sense that I didn't know just how big it really was. It was a tremendous experience, but going into it, I certainly wasn't prepared.
Palmer added, "I was really happy with everything. It's reality TV, so I knew a lot of stuff was going to get edited. I was really open-minded going into it, so I wasn't surprised by anything." At the end of his season, he chose Jessica Bowlin, but he didn't propose and they broke up just afterwards. Now, he's dating Brazilian model Emely Fardo and traveling the world with her. According to Life & Style, the two have been to Paris, spent Thanksgiving together, and attend red carpet charity events pretty often.
However, aside from a ton of selfies on Instagram, he seems to keep his private life to himself. He told Digital Journal back in 2017 that he's really just dedicated to his job, which he loves. Palmer told the outlet:
I love new experiences and challenging myself, and learning more about myself. I am really lucky with my jobs. I get to work with great non-profits like Good Sports and I get to meet some really unique and interesting people, and hopefully make a little bit of a difference. Every day for me is a blessing.
He added that being on The Bachelor helped him hone his skills in so many ways. Palmer continued, "That was so cool. That was a very unique experience, since it allowed me to step out of my comfort zone. I learned a lot about myself along the way. That was a wild ride!" His time on the show was way before social media or Twitter, and it's easy to see how if he were on the show today, he could have gone even further with endorsement deals and influencing gigs, like most of the contestants do these days.
Although he's obviously done well for himself, being the host of this summer's speed dating competition show might just give him another boost. Having a net worth of $6 million isn't too shabby at all, but there's always more out there, right?