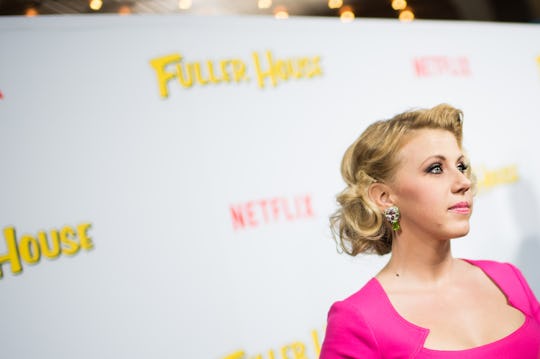 Emma McIntyre/Getty Images Entertainment/Getty Images
What Is Jodie Sweetin Doing After 'Fuller House?' She's Got A Busy Schedule Ahead
Jodie Sweetin is someone most of us who watched Full House growing up just can't help but root for. We watched her, as a little girl, play Stephanie Tanner, then watched her struggle through addiction and find her way back. Now that she's back and better than ever, reprising her Stephanie role in Fuller House, fans of Sweetin are eager to see more of her. So what is Jodie Sweetin doing after Fuller House? Turns out she's got some pretty big plans.
First are the rumors from E! News that Sweetin has already signed on to participate in next the next season of Dancing With the Stars. E! News says she previously turned down the show, but now she's ready to follow in her TV big sister, Candace Cameron Bure's, dancing shoes and take a spin on the competition reality show. DWTS faves Maks and Val Chmerkoxsky even made an appearance on Fuller House, giving viewers another hint at Jodie's future.
Fuller House fans too are very excited about the prospect of seeing Sweetin on Dancing With the Stars, taking to social media to voice their sentiments. "If [Jodie is] really going to be on Dancing with the Stars this season, I'm gonna be soooo happy," one fan tweeted about the rumor. Others made quick reference to Sweetin's "girls night out" episode, which showcased her dancing skills. "I think we can all agree #FullerHouse is Jodie Sweetin's audition for Dancing with the Stars," joked one fan.
Besides Sweetin's revived TV career, she's ready to enter a new phase of her life personally as well, recently getting engaged to her boyfriend of two years, Justin Hodak. Sweetin hasn't always had the best luck in love, so it's nice to see her find happiness. She married first husband, Shaun Holguin, in 2002 when she was just 20 years old. After that, she married Cody Herpin in 2007 and had a daughter, in 2008 named Zoie. When her marriage to Herpin ended, Sweetin married Morty Coyle and had a daughter, Beatrix, but that marriage ended in 2013, according to Hollywood Life.
I can't think of a better way to get into the best wedding shape imaginable than joining Dancing With the Stars — besides, Sweetin and her sweetie could really work up a killer wedding dance routine!
So, after all the heartbreak, it looks like Sweetin is on a roll with a new family and revived career. Nice to see Stephanie Tanner and Jodie Sweetin get the happily ever after viewers always dreamed of for both of them.