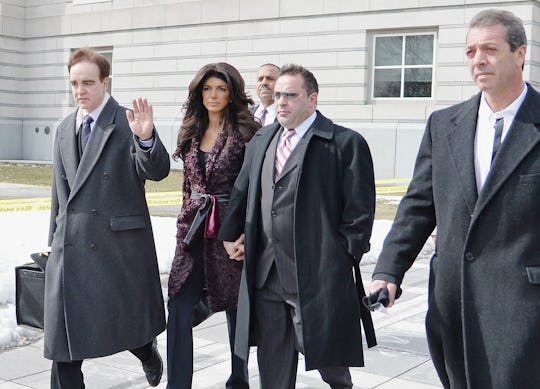 Mike Coppola/Getty Images Entertainment/Getty Images
What Is Joe Giudice's Release Date? He Could Be Home Early
Joe Giudice is now a few months into his 41 month prison sentence for fraud and conspiracy, a sentence he only started to serve once his wife Teresa was finished with her own so that there would be someone around to care for their four daughters. The Giudice legal battle dragged on for months, with Joe pleading guilty in 2014 but not actually entering prison until March 23 of this year. He has a few years ahead of him behind bars, but when does Joe Giudice get out of prison, exactly?
Though Joe was sentenced to 41 months, which is almost three and a half years, that doesn't mean he will be serving the full extent of his time. Teresa only served 12 months out of the 15 she was supposed to serve, because good behavior and in-prison programs can lead to the reduction of sentences. In fact, Joe's sentence has already been reduced by five months, which makes his release date March 14, 2019.
According to the Giudice family attorney, James J. Leonard Jr., this is very common. "In the federal prison system, inmates typically serve 85 percent of their sentence," he told The Daily Dish. "So when you're looking at a projected release date, what you're looking at is 85 percent of the actual custodial sentence."
Leonard went on to explain that time can come off thanks to situations like prisoners moving on to a halfway house or home confinement. And Joe is definitely trying to get as much time taken off his sentence as he can. He told People that he "shouldn't be in there longer than a year and a half" thanks to sentence reduction programs, some of which can take nearly 10 days a month off one's sentence. He plans to do as many programs as he can find the time for – and he has the time to spare.
The trouble won't necessarily be over as soon as Joe has completed his prison sentence, though. Joe was born in Italy and is not an American citizen, so he could face deportation upon his release. Neither Joe nor Teresa consider that an actual outcome that they will have to face, but when asked by Leonard what they would do in that scenario, Joe said that "of course" Teresa and the girls would relocate to Italy with him. However, Joe has lived in the United States since he was a year old and considers himself an American. Apparently he did not even realize until his case with the state that he wasn't a citizen.
But that potentiality is a few years off and until then Joe will focus on getting through prison. So far it has been reported that he's doing well and even making friends – like another Real Housewives husband, Apollo Nida, who is serving time at the same prison.