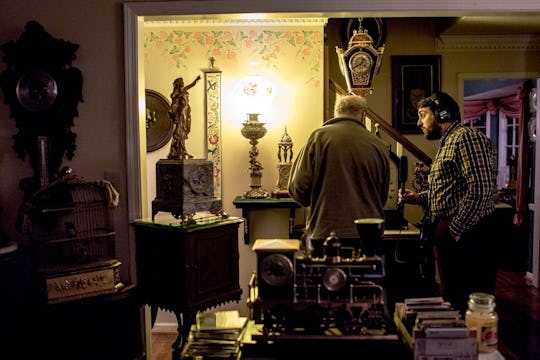 Andrea Morales
John B. McLemore's Net Worth Is 'S-Town's Biggest Mystery
S-Town, the all-new podcast from the team behind This American Life and Serial, is the addicting story of an alleged murder in "Sh*ttown," Alabama and the quest to unearth the truth. Central to the story is Woodstock, Alabama local John B. McLemore, the heart and the soul of the story. McLemore is eccentric, entertaining, and deeply engaging. With time on his hands to escort host Brian Reed all over Woodstock on the hunt to uncover the truth of the alleged murder McLemore believes took place, many wonder what is John B. McLemore's net worth? Does he work? How does he have time to do this? And perhaps most pressing of all: Was there really even a murder?
It only takes about 30 seconds of listening to S-Town for it to become crystal clear just why McLemore is so important — aside from the vivid color and personality he brings to the narrative, without McLemore there'd be no S-Town at all. In an interview with Vulture.com, Serial senior producer Julie Snyder explained the origin of the S-Town story:
Production of S-Town began when a man reached out to This American Life bitterly complaining about his small Alabama town. He wanted a reporter to investigate the son of a wealthy family who had allegedly been bragging that he got away with murder. Brian agreed to look into it. But then someone else ended up dead, and another story began to unfold — about a nasty feud, a hunt for hidden treasure and the mysteries of one man's life.
Fair warning: Spoilers for Season 1 of S-Town ahead.
A profile of McLemore published on AL.com describes McLemore as an "intelligent, even gifted man" by those who knew him. McLemore, as Reed explains on S-Town, was fascinated by antique French clocks, which McLemore restored and shipped to clients all over the United States and the world. Reed spends a significant amount of time characterizing McLemore as an ecclectic man with far-reaching interests. And Woodstock police chief, L.C. Price, told AL.com that McLemore was "really smart," even suggesting that he could have "made an atomic bomb if he'd wanted to." (It's worth pointing out that Price was not alleging McLemore did this — just that his knowledge was so vast that the science and engineering involved to do so would've been within McLemore's cognitive wheelhouse.)
Before unfortunately committing suicide at the end of "Chapter II," McLemore teases that he has "unbanked," which meant he didn't keep any of his money in banks. McLemore also was candid with those close to him about committing suicide, even telling Reed that emailed a suicide note to the Woodstock Town Hall and also his lawyer with information on who to contact, what to do about his dogs, and information on "where the money is hiding — but not all of it." The assertion alone is reason enough to believe that no one will truly know what McLemore's net worth is, especially if he's taken to keeping his money hidden.
In "Chapter IV," Reed retells the anecdote of a conversation he had with McLemore ahead of his death. McLemore told Reed that when he died, $100,000 would go to PETA, adding that he could "continue to burn through his saved money" (an amount no one was privy to) if he stayed alive, or that he could "donate it to someone who needed it more." McLemore told Reed he intended to leave Jake and Tyler (two men McLemore was close with) a "sh*tpot full of money." But here's where things get tricky: McLemore didn't leave a will. So after his death, $100,000 did not go to PETA, and Tyler and Jake were not gifted a "sh*tpot full of money." It begs the question: Where is the money?
That question is enough to reposition S-Town's central storyline. Even in death, McLemore is telling the story, only this time, it's through clues that may or may not lead to Reed, Jake, Tyler, and listeners to buried treasure.