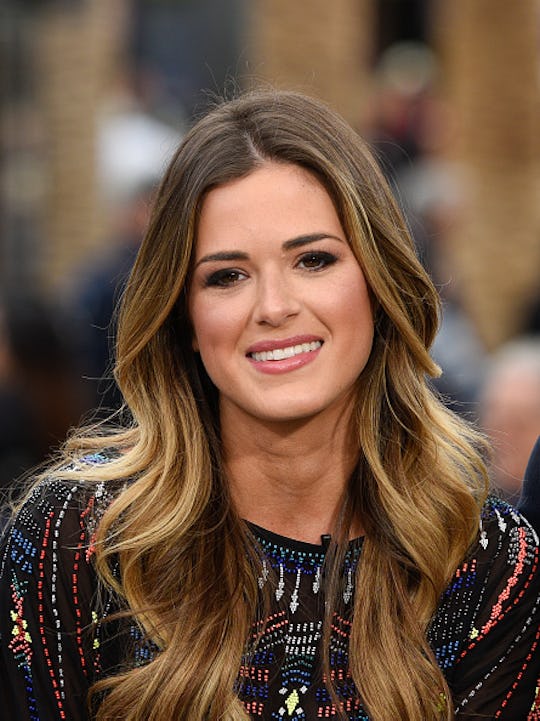 Noel Vasquez/Getty
What Is JoJo Hiding On 'The Bachelorette'? Possibilities Are Endless
In the previews for Week 5 of The Bachelorette, which airs on June 20, it looks like JoJo Fletcher is going to be having a rough week. The promo opens with a sniffling Bachelorette clutching a used tissue on the couch and sobbing, "I hate him!" Uh-oh. While the obvious assumption would be that she's talking about Chad, the villain of the season who's become famous for his aggressive threats to the other guys, we really don't know. She also says, "I would hate for any of them to walk away from this not knowing the truth." What's the truth, JoJo?! What is JoJo hiding on The Bachelorette?
The season previews could give us slightly more information to go on, but not much. In the clips shown in the season preview, somebody mentions a "former Bachelor," (who could be Jake Pavelka) and JoJo is heard saying tearfully, "I was in love with him. I was going to spend my life with him. Why!" Was JoJo referring to former Bachelor, Ben Higgins, who told her he loved her, but chose Lauren Bushnell instead? Or could she be referring to someone else? Are her real feelings the secret she's been hiding? One of the Bachelors even suggests that JoJo could be in danger!
Before the season even aired, JoJo was already dogged by rumors. Her ex-boyfriend, Chad Rookstool, first launched himself into the limelight last season when he sent JoJo flowers and a love letter while she was living in the mansion. Later, he claimed that he and JoJo were "intimate" before this season of The Bachelorette began filming. There were also some rumors that JoJo had been dating two-time Bachelorette runner-up, Nick Viall. But JoJo has roundly denied both of these rumors. She has never dated Nick, and she definitely did not hook up with her ex-boyfriend before filming The Bachelorette. I gotta say, maybe JoJo should just avoid all men named Chad?
So if she's not referring to her ex or to former-Bachelor Nick Viall, is she talking about Ben? Who does she hate? The promo clearly wants us to believe she's talking about Chad (current Chad, not ex-boyfriend Chad), which makes sense. Though he was kicked off the show, he came back to the house anyway, which the producers have framed in the most threatening way possible, down to the horror movie music. But these promos are often misleading, and I wouldn't be surprised if JoJo's "truth" was simply that she's still hurt over her last Bachelor experience.
I guess we'll just have to wait to find out.